The picturesque town of Polička is in the Bohemian-Moravian Highlands. It boasts a long history and a whole number of preserved historic sites. It was founded back in the year 1265 by Přemysl Otakar II. The old town centre is still surrounded by massive stone walls, the construction of which began in the 14th century. The main landmark is given by St. James' Church, in the tower of which the famous Czech composer Bohuslav Martino was born. Not far from Polička is the early Gothic castle of Svojanov, one of the oldest in Bohemia.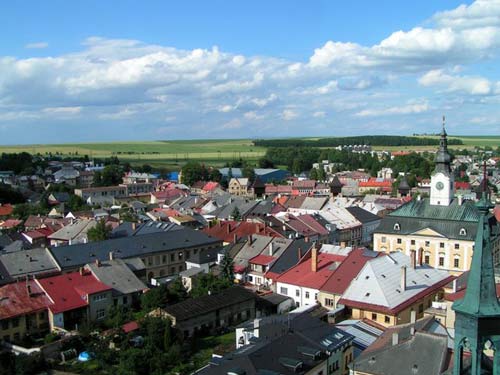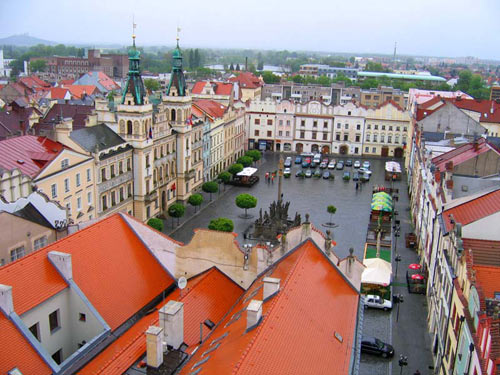 Best Sights
Plague column (on Palacký Square) – built in 1727 – 1731 as a symbol of gratitude after the town was spared from the plague in 1713. It is 22 metres high, and experts claim it has no match elsewhere in Bohemia.
Baroque town hall – built in the middle of the 18th century on the site of a Gothic building. The town hall also houses a picture gallery and the remarkable Chapel of St. Francis Xavier with original décor from the year 1751.
Town walls – construction was begun in the 14″ century during the reign of Charles IV. The fortifications are 1,220 metres long with 19 bastions, surround the old town centre, and are best preserved in Central Europe. Visitors can visit part of the fortifications with a guide from the Information Centre. 
Other Tourist Sights
St. James' Church was built in neo-Gothic style in the years 1853 – 1865 after a great fire that destroyed the original Gothic church on the site. Bohuslav Martinů was born in the church tower, and it was here that he spent part of his childhood.
St. Michael's – built in the second half of the 16′ century by Ambrož Vlach. Gothic on the outside, this church has a purely Renaissance interior.
The Municipal Museum – Bohuslav Martinů Memorial – has a well-arranged collection of documents, photographs and works of art related to the life and work of this great composer. Up to seven people inhabited the room where Bohuslav Martinů was born during the day.
Svojanov Castle – only 15 kilometres southeast of Polička, built in the 13″ century to protect a major trade route. At present, the castle is owned by the town council. The romantic castle has a 26-metre tower affording a wonderful view of the surrounding countryside. The castle provides a venue for weekend cultural events during the summer. You can visit it with a guide from the Municipal Museum, but you will have to climb 192 stairs up to a height of about 36 metres to get to it. The tower gallery offers a wonderful view of the town and the Ždár Hills.
Tourist Information Centre: Palackého nám. 160, 572 01 Polička, tel.: +4201461 723 800