When you stroll around Wenceslas Square, you will pass many stalls where you can order a sausage (in Czech párek), and you'll get it on a plate with a dollop of mustard and a slice of bread. You can also try klobása, a larger, smoked sausage, or párek v rohlíku – a long, skinny hot dog tucked into a bread roll.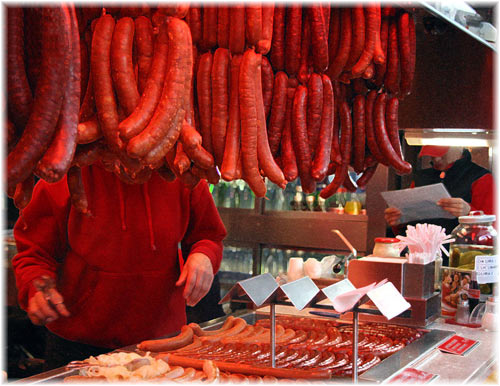 I do not advise you to buy from the stalls that sell sausages, because these are not hygienic, and also because they will rob you blind if they can. These people that work in the stalls are not originally from the Czech Republic but from the Ukraine, and some might be linked to the mafia. Generally, I found that with Czech people they do sell at the correct price and if they want a tip they will ask first. I kept getting ripped off by the sausage stalls in Wenceslas Square. I had paid on more than one occasion 100 CZK for a sausage that should cost me 30 CZK. I talked to another foreigner who was working in the centre and he said to me that he knew of one English man who was drunk and gave this lady 100 EUR thinking it was 100 CZK. When he realised, he had already walked away. He returned to ask for the money back and they told him he should have checked it. It was too late because they had his money then. Also, if you pay for something that is 50 CZK and you hand them 200 CZK don't be surprised if they short change you by 100 CZK. If you are going to eat, avoid those stalls – there are a few McDonald's and KFCs in the area, so try them if you are on a low budget. Fast food restaurants might be slightly more expensive compared to eating hamburgers and sausages from stalls, but are much more safe.
Did you know? There are no reports of severe cases of food poisoning in Prague, but mild cases are more common. For this reason, avoid stands selling food in the street, as the ingredients are exposed to bacteria and may not be cooked thoroughly. Usually, all restaurants in Prague have a high standard of hygiene, equal to the rest of Europe.