An unoccupied taxi has a lit-up sign and may be hailed on the street or hired from a taxi rank, but it is much more recommended and safer to order over the phone. Sadly, Prague still has some of the worst taxi drivers globally when it comes to overcharging. It's a standard warning in any guide that taxi drivers in Prague are famous for trying to rip off both tourists and locals.
Taxi drivers in Prague are famous for trying to rip off both tourists and locals. On the other hand, they are still cheaper than cabs in London or Paris. Hailing a taxi on the street or taking a cab from a tourist attraction spot has the biggest risk of you being overcharged. We advise you call a taxi from one of the most popular companies like Profitaxi or AAA taxi. They have quite a good reputation. The minimum cost is (also so-called starting fee when you enter a vehicle) is max. 60 CZK. Also, check the taxi meter. It must be at zero when you get in. The maximum charge is 36 CZK per kilometre, and if you ask the driver for waiting, they will add 7 CZK per minute. The fare outside the district of the capital city of Prague is not limited and can be negotiated. Registered taxis should have a meter clearly displayed. At the end of the journey, the driver should give you a printed receipt. If you have a company in Prague and plan to use taxis for a long period, you can agree with ProfiTaxi or with Prague Transfers. Due to recent regulations and high fines for overcharging customers – taxi drivers are starting to provide more fair service. But still, be careful.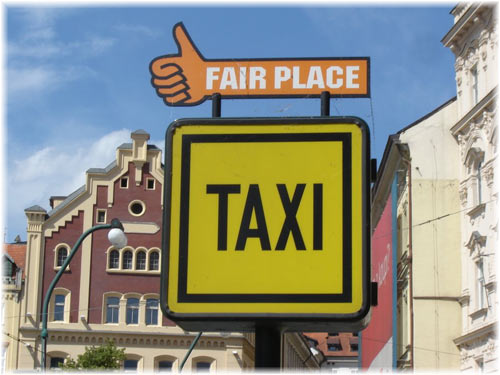 From Taxi History
The taxi service in Prague has had a somewhat chequered history. During the rule of the Communist Party in Czechoslovakia (1948–1989), the taxi service was nationalised into one Umbrella company and, with a short exception during liberalization related to Prague spring, no independent taxi drivers were allowed. The quality and availability of the service were low. This caused many enterprising people to run illegal taxi services. Their earnings were far above the income of typical citizens and became a source of envy. After the fall of the Communism regime, the service was liberalized, and anyone could become a taxi driver. Unfortunately, the chaos of transition from planned to the market economy did not leave any time to implement sufficient regulations. The lack of planning and controls has led to a number of serious taxi scams operating in the city, some of which have been linked with organised crime. Many of the victims of overpricing are tourists.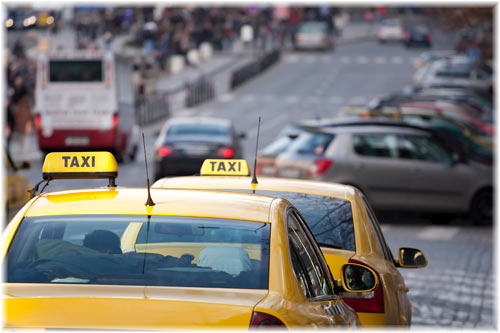 Don't Hail Taxis on the Street
Either ask a Czech person to call you a cab or call one of the city's more reputable English-speaking companies – Try AAA or ProfiTaxi. They can also give you an indicative estimated price for your taxi ride.