Czech national airline is called Czech Airlines (CSA) – flies mainly to European destination including London and Paris. CSA also operates direct flights to New York, Moscow and many other world destinations. They offer quite good value for money; for example, you can fly return from London for around 120 GBP (inc. tax). However, there are still many real low-cost airlines offering very competitive rates. With EasyJet, you could make the same journey for less than half price if you book well in advance. Recent low-cost carrier WizzAir also lunched a few new routes from the UK to Prague.
Tip: A bit of good advice: Everyone tells you not to trust the Czech taxi drivers, especially to and from the Airport. Simple solution book and prepay your taxis through Prague-Airport-Transfers.co.uk (they are on the web). The service was superb. England, source TripAdvisor.com
Low-Cost Flights From UK
EasyJet – from Bristol, London Stansted, London Gatwick, Amsterdam, Lyon, Paris and Milan Malpensa. Easyjet.com
Wizz Air – fly from London Luton, Barcelona, Edinhoven, Oslo, Venice, Rome, Bari, Naples, Milan Bergamo, Bourgas to Prague. Wizzair.com
Jet2 – fly from Manchester, Newcastle, Leeds Bradford and Edinburgh Jet2.com
Ryan Air – flies from Birmingham. Also flies from London Stansted to Brno (second biggest city in the Czech Republic, 200km from Prague) from around £20 tax included, one way. Ryanair.com
Germanwings – from London Stansted via Cologne Bonn. Germanwings.com
Other Flights From UK
Czech Airlines – from London and Manchester (plus from Dublin). CSA.cz
BA – flies from London Heathrow to Prague from £120 return, tax included. BA.com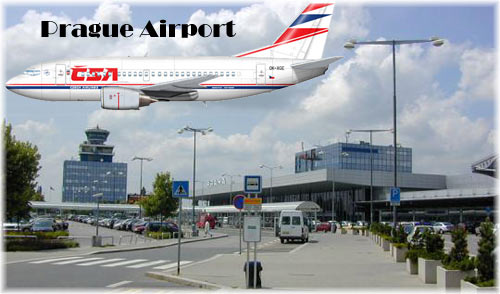 KLM.com – from any UK city just from 119 GBP return (from all over the UK)  
Air Berlin – you can fly from Manchester and London to Vienna or Nuremberg and then take a train to Prague. Airberlin.com
Aer Lingus – flights from Dublin. Aerlingus.ie
Brussels Airlines – fly from Brussels to Prague as low as 50 EUR. Brusselsairlines.com
Cimber Air – flies from Denmark, Copenhagen. Cimber.dk
SkyWays – flies from Gothenburg,  Sweden. Skyways.se
German Wings – operates a low-cost route to Prague from Cologne Bonn in Germany. Cheapest one-way fares come to €33 including taxes. Germanwings.com 
Norwegian – flies from Oslo, Stockholm, Copenhagen to Prague from as low as 50 EUR. Norwegian.no  
Smart Wings – Prague based airlines fly to many EU destinations, including the Middle East. Smartwings.com 
Lufthansa – quite cheap return flights from many cities in Germany to Prague. Return flights from London to Prague around £150 including taxes. Lufthansa.com
Vueling – flies from Spain, Barcelona. Vueling.com
Transavia – flies from Rotterdam. Transavia.com
Low-cost airlines sell flights direct to you, so you don't pay a high-street travel agent commission. So when booking a holiday, first look at low-cost airlines prices and then decide if a package from your travel agent offers a better deal than if you book a flight and hotel separately.  To save even more, book flights on a cheap travel day, generally cheaper flights can be found on Tue, Wed & Sat. Low cost airlines mostly do not offer FREE meals on board. Passengers have to pay for their in-flight drinks/snacks. Usually, a selection of hot and cold drinks, alcoholic beverages, sandwiches, savoury items and confectionery is made available, along with gift items such as watches, fragrances and hi-tech gadgets.
Flights From USA
Czech Airlines – from New York. www.csa.cz
Delta Airlines – from Atlanta, Denver, Fort Lauderdale, Los Angeles, New York and Phoenix. www.delta.com
Overseas flights are operated only to selected destinations. Therefore it is highly probable that if you are travelling from a different continent, getting to Prague, you will have to change to Frankfurt, London, Amsterdam or Paris.
Other Airlines
Aer Lingus – flights from Dublin.  www.aerlingus.ie
Aeroflot – www.aeroflot.ru
AeroSvit – www.aerosivt.ue
Air Baltic – www.airbaltic.lv
Air France – www.airfrance.com
Alitalia – www.alitalia.com
Austrian Airlines – www.austriaairlines.com
British Airways – www.britishairways.com
Cortia Airlines – www.croatiaairlines.com
CSA (Czech Airlines) – www.csa.cz
El Al – www.elal.co.il
Emirates – www.emirates.com
JAT Airways – www.airserbia.com
KLM – www.klm.com
LOT – www.lot.com
Lufthansa – www.lufthansa.com
Malev – www.malev.com
SAS – www.flysas.com
Turkish Airlines – www.turkishairlines.com
Travellers With Disabilities
If you require special needs, you should inform the airline of your requirements when booking, reconfirming, and again when checking in. Prague airport have ramps, lifts and wheelchair-accessible toilets and telephones.
Airline Offices in Prague
Aba Air, Aviaticka 12, phone 220 111 442
Aeroflot, Truhlarska 5, phone 224 814 984
Aerosvit, Husova 5, phone 224 248 828
Air Algerie, Zitna 23, phone 222 231 614
Air Baltic, Trziste 1, phone 257 532 829
Air Canada, Smeralova 24, phone 224 810 181
Air France, Wenceslas Square 57, phone 224 227 164
Air Lithuania, Prague Airport, phone 220 115 042
Air Malta, Kaprova 13
Air Ostrava, Aviaticka 12, phone 220 114 647
Air Special, Prague Airport, phone 220 112 400
Adria Airways, Kamzikova 6, phone 224 212 526
Alitalia, Na Mustku 9, phone 224 194 150
Air Ukraine, Husova 5, Praha 1, phone 224 248 828
Austrian Airlines, Revolucni 15, phone 224 826 199
Balkan Airlines, Prague Airport, phone 220 560 594
Belavia, Tynska 21, phone 224 808 313
Bemoair, Na prikope 12, phone 224 211 824
British Airways, Ovocny trh 8, phone 222 114 444
British Midland, Washingtonova 17, phone 224 239 280
Canadian Airlines, Wenceslas Square 36, phone 296 236 672
Croatia Airlines, Na Prikope 9, phone 222 240 270
Cross Air, Parizska 11, phone 224 812 111
Cubana, K letisti 57, Praha 6, phone 241 080 748
Czech Air Prague, Evropska 178
CSA, V celnici 5, phone 220 104 111
Delta Airlines, Narodni 32, phone 224 947 332
Egretta, Dedinska 29, phone 220 102 215
El Al, Wenceslas Square 33, phone 224 226 624
Eurowings, Prague Airport
Finnair, Spanelska 2, phone 224 213 915
Fischer Air, Prague Airport, phone 220 116 170
Gandalf Airlines, Prague Airport, phone 220 115 042
Georgian Airlines, Truhlarska 10
JAT, Zitna 49, phone 224 942 654
KLM, Na prikope 21, phone 233 090 933
LOT, Parizska 18, phone 222 317 524
Lufthansa, Prague Airport, phone 220 114 456
Malev, Na Prikope 15, phone 224 224 471
Pulkovo Air, Krakovska 22, phone 222 210 797
Sabena, Parizska 11, phone 224 812 111
SAS, Prague Airport, phone 220 114 456
Swissair, Parizska 11, phone 224 812 111
Syrian Arab Airlines, Prague Airport
Skoda Air, Prague Airport, phone 220 113 115
Tarom, Soukenicka 8
Tatra Air, Prague Airport, phone 220 114 115
Travel Service, Hornatecka 5
Tunis Air, Nekazanka 20, phone 224 237 448
Turkish Airlines, Wenceslas Square 62, phone 221 518 391
Ural Airlines, Senovazne nam. 23, phone 224 122 004
Yugoslav Airlines, Zitna 49, phone 224 942 654