Prague Airport, Václav Havel (all international flights arrive here), is located 17km from the city centre and has all the modern amenities you would expect of a European airport. The journey from the airport to the city centre takes around 20 – 25 minutes or around 55 minutes by public transport.

As Prague is quickly becoming the top tourist destination in the EU, now serving tens of millions of tourists each year, Prague's airport and inbound flights are increasing all the time.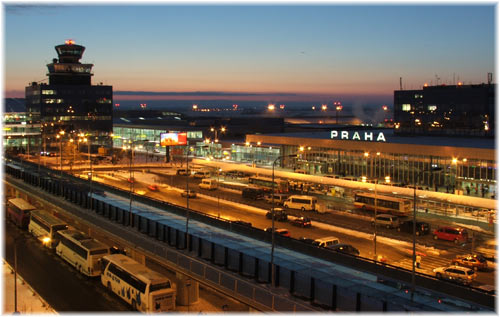 At Arrivals
you will find the tourist information desk where you can get any information and help from friendly staff who speak English and German. We recommend you take a free city map. There are also other desks in the airport where you can arrange a rental car or book a hotel. You can also exchange your money for Czech koruna (at Travelex, open 24hr) or withdraw money at an ATM. It is best not to exchange money or cash traveller's cheques at the airport as the commission is very high (however, if you decide to do so here don't be afraid to ask staff to lower the commission for you, more often than not, they will agree). If you wish to, you can leave your luggage in the airport store, and they charge 100 CZK for one piece of luggage for 24 hours. This is ideal if you are stopping over in Prague, and it is open 24 hours. Airport Hotel Marriot (4 stars) and Hotel Tranzit (4 stars) are near to the Terminal and provide the option of accommodation directly at the airport. The airport also has restaurants, VIP lounges, conference and congress rooms, several travel and accommodation agencies and a post office.
Entry Requirements
Before travelling to the Czech Republic, you should check if any entry requirements are needed and arrange all necessary documentation. If you are a citizen of a country that does not have a Visa Waiver Regime with the Czech Republic, you will need to obtain a valid visa to enter the Czech Republic. Contrary to some other countries, which issue visas on arrival, the Czech visa can be obtained only at a Czech embassy or the premises of authorities representing the Czech Republic in that particular country.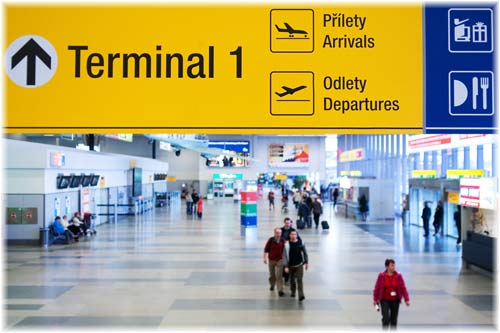 Getting to the City
If you don't have a lot of luggage, take the No 119 bus from the airport to Dejvická metro station. From there, take the main A-line into city-centre stations. There are also other buses (No.100, No.254 and No.179) but no. 119 is most convenient. You must buy a ticket before travelling to the arrivals lobby, at ticket machines or the newsagents. If you take the No.119 or No.254 bus (every 15 to 20 minutes, journey take about 25min), you should get off at the last stop called Nádraží Veleslavín, where you can transfer to the metro (subway) line A. In just a few metros stops and you will be in the city centre. When buying a 32 CZK ticket for public transport, you will receive a transferable ticket allowing you to travel for a 90 minute period. Note that if you are carrying any large pieces of luggage, i.e. a backpack or suitcase, you will need to purchase an additional ½ price ticket. You can also take the No.100. the bus that will take you from the airport to Zlicin – the underground terminal stop of the yellow line (B) leads to the town centre (Mustek station). If travelling in the night, catch a night bus No 510 (between midnight and 3.30) from Prague airport to the tram-bound at Divoka Sarka, then go by tram No 51 to Dejvicka metro station or further to the city centre (Namesti Republiky or Wenceslas Square). Alternatively, a taxi rank and private shuttles take you directly to the city from Prague airport. Be aware that Prague taxi drivers, though less than before, may try to rip off tourists. Save money and book comfort and reliable private airport taxi transfer before you go! We advise you to negotiate a price before you get in. You can expect to pay around 600 CZK from the airport to the city centre (up to 1000 CZK if your hotel is a bit far in Prague). Taxi drivers don't usually speak great English, but they should be able to understand you. Airport taxies also accept credit cards (there might be a surcharge, though).
AE (Airport Express Bus)
For the fastest direct transportation to the train station, we recommend the AE buses, whose arrivals at the train station are timed to match the departures/arrivals of all SuperCity, EuroCity and InterCity trains leaving from the Main Train Station (Hlavní nádraží. These trains used to leave from Nádraží Holešovice. From Terminal 1 / Terminal 2 -> Dejvická (transfer to Metro Line A) -> Masarykovo nádraží (transfer to Metro Line B) -> Hlavní nádraží (transfer to Metro Line C). Travel time to Dejvická stop approximately 20 min., to Hlavní nádraží approximately 50 min. Special fare: CZK 50 to Main Train Station (Hlavní nádraží).
Buses to Dejvice metro station depart every 10 minutes from 4.15 am to 23.30. Please note that the last direct bus to the metro station Dejvická is at around 23.30, and the first leaves at around 4.15 am. Beyond this time getting from the airport by public transport is only possible via a night bus with night tram combination, making this journey to the city centre very inconvenient, lasting up to two hours. Tickets cost 32 CZK, plus 16 CZK per large piece of luggage.
Expensive Parking at the Prague Airport
The situation with short-term parking at the Prague airport is complicated. It can get quite expensive if a flight gets delayed. If you don't leave the short-term parking zone within 15 minutes, you'll pay hundreds of crowns because of the wait for a delayed flight.
Short-term parking is possible at Express parking lots. The first 15 minutes are free. Every 15 minutes after that will cost you a hundred crowns. That means an hour and a half comes up to 300 crowns.
Terminal 2 (for EU flights)

By launching Terminal 2, Prague Airport has made a significant step in modernising its facilities, offering seamless handling and increasing the airport's transport capacity, which is becoming one of the major air hubs in Central and Eastern Europe. This terminal allows Prague Airport to handle up to 4 million passengers a year. More planned investment linked to this terminal will help channel more visitors to Prague and double the number of passengers to around 20 million a year roughly over the next 10 years.
Self Service Check-in at Prague Airport
Prague Airport Ruzyne develops and improves its services with a new check-in system that fasten passenger clearance, enabled by new self-service check-in kiosks. Selected airline companies, including British Airways and Swiss Air, Air France KLM, Easy Jet and CSA, offer this service to their clients. These kiosks are intended for travellers who do not want to waste their time by counters. At the time of writing, there were 8 kiosks of this kind at Ruzyne airport. Passengers willing to use this self-service check-in will need an electronically issued ticket with a magnetic stripe containing all necessary information (flight details, credit card number, personal data etc.) The machine will load all information and help the check-in. These kiosks will check in passengers without reservation as well. A similar system works at some other airports around Europe and is being used by 10-15% of all passengers.
Special assistance for disabled passengers you can order by buying a flight ticket or at check-in desk. Prague Airport website – or phone (tel. +420 – 220 111 111) – www.pragueairport.co.uk 
Airlines
Czech Airlines is the county national airline that operates direct scheduled flights to Prague from Britain, mainland Europe and North America. If you fly from London, expect 2hrs flight time. Other international carriers that fly into Prague include EasyJet, British Airways, Alitalia, KLM, Lufthansa, Korean Air, Turkish Airlines SAS, Air France and many others.
Departures From the Prague Airport
If you have already chosen your destination and want to find out whether and under which conditions the tickets are available fast. As simply as possible, you'll find this information again on www.prg.aero. Here you can choose the date of departure (in case of a return journey also the date of the arrival back), and the information system will provide you with entire information on the flights available.
In addition to the time of the departure and arrival, you will also get information on the airline you will fly with, the planned length of the flight and even the type of plane which will transport you to the target destination. The number of the flight is also available. You can also book the selected flight on the Prague Airport webpages. 
Other International Airports
Other international airports include Brno (www.airport-brno.cz), Ostrava (www.airport-ostrava.cz), Karlovy Vary (www.airport-k-vary.cz) and Pardubice (www.airport-pardubice.cz).