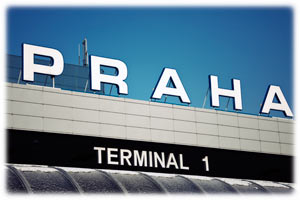 Since the beginning of 2012, the airport has been fully using an E-Gate automatic check-in system. This is the first system of this type in the Czech Republic; similar systems are used only in some airports in Europe.
According to the spokesperson, the system, which is named Easy Go, enables the self-service check-in of citizens of the European Union, the European Economic Area and Switzerland who are biometric passport-holders and are aged over 18.
This is the first ever police system within the Czech Republic which allows the obtaining of biometric information from a travel document and then using it to check on the identity of the holder.
The automatic E-Gate facilitates the check-in process, making it faster both for passengers themselves and for the policemen who carry out frontier checks. The standard time of checking in by a policeman is 30 to 40 seconds, while checking in using the E-Gate takes 10 to 12 seconds. Every passenger passes the system individually, without the assistance of a policeman or another person.
A policeman only supervises a check-in process, is an operator of the system and only enters a check-in process if discrepancies are detected.
The police envisage the installation of several more gates in future.