The Spanish Synagogue is located a couple of blocks away from the Maisel Synagogue. Built on the outskirts of the Jewish ghetto in 1868, it was a house of worship for an increasing number of Reform Jews. Its façade is a rich expression of Moorish architecture, and the interior even more so. It is a place where one can lose oneself gazing at its splendid designs.
In 1998, the 130th anniversary of its founding was reopened after over 20 years of being closed to the public.  Construction on the building began in 1868 on the spot where the Alt Schul (Old School) once stood. The Alt Schul was the oldest Jewish house of prayer in Prague before it was torn down.
The Spanish Synagogue got its name because the interior decor was inspired by Alhambra, a building in Granada, Spain, that the Moors built. In 1492, the Moors and the Jews were expelled from Spain, and the Jews scattered to other countries in Europe. The Moors were Muslims, who were followers of Mohammed and the Koran. One of the laws of the Koran forbids any human figures or animal forms in sculpture or painting. That is why Moorish architecture uses only geometric figures in the interior decoration of a building.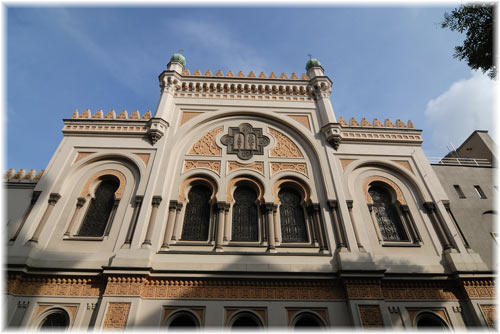 The Spanish Synagogue is a mind-boggling sight with its profusion of Moorish motifs of flowers and geometric patterns in brilliant reds, blues and greens with gold trim. The entire interior is covered with colour on the ceiling and the walls; the stained glass windows repeat the brilliant colours and patterns. The windows and the interior were designed by architects A. Baum and B. Münzberg; the work was completed in 1893, the same year that the city decided to tear down the old ghetto.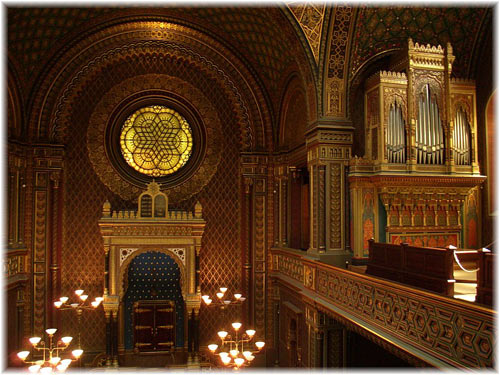 The older synagogues in Europe typically feature a bimah in the centre of the room and benches around the walls. Still, the Spanish Synagogue has benches arranged in rows in the centre of the room, just like in a Christian church. All of the orthodox synagogues have a separate women's gallery located above the main hall, like a balcony on three sides of the room. The Spanish Synagogue has decorative cast-iron columns holding up the women's gallery. There is a display of photographs in the women's gallery.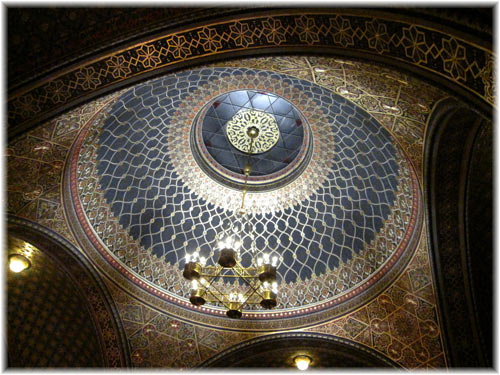 Robert Guttman Gallery
 Located next to the Spanish Synagogue and part of the Jewish Museum is this gallery displaying works by local artist Robert Guttman and those from other Jewish artists.