Prague offers an increasing quantity of specifically marked bicycle lanes, such as the lengthy and popular route that follows the River Vltava from the National Theatre (south of the centre). The route begins around Prague Zoo and tracks the Vltava northwards towards Germany. But due to the heavy traffic and the lack of bicycle lanes, it is not recommended to cycle in Prague. You might see many couriers cycling in the city, but not many people use this method of transport. Cycling is mostly a leisure activity rather than for transport. For those under 15, it is mandatory to wear a helmet. There are a few bicycle rental offices in Prague. Most of them charge from 400 CZK up to 1,000 CZK for one day's rental. City Bike, located at Kralovska St. 5 (close to metro stop Namesti Republiky), organize city guided tours. A two-hour guided tour costs around 500 CZK. You cannot take a bicycle onto the bus or tram. But if you're using the metro, you can store them in the train's last carriage. Don't forget to buy a half-price ticket for your extra-large luggage – in this case, your bike.
If you're staying longer in Prague, especially during summer, it's better to buy a bike than to rent one as rental prices for more than one week would cost you the same as a cheap new bike.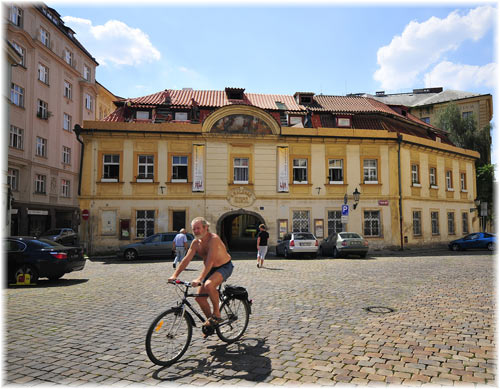 Public Transport
Now you no longer need to weave your way through traffic to get where you want to go. Five special tram lines allow you to travel with your bike comfortably, safely and quickly. These trams run in selected directions all day long on weekends and from 8 p.m. to 6 a.m. on weekdays. (1. Dejvicka – Divoka Sarka; 2. Nadrazi Holesovice – Trojska – Sidliste Dablice – Vozovna Kobilisy; 3. Nadrazi Modrany – Sidliste Modran; 4. Palmovka – Bulovka – Sidliste Dablice – Vozovna Kobilisy; 5. Smichovske nadrazi – Sidliste Barrandov)
Bike Buses and Bike Trains
You can take advantage of special bike buses and bike trains for trips to Prague's surrounding areas. A bike bus for 25 bikes runs from Dobřichovice through Černolice, Řitka and Mníšek pod Brdy to Kytín, linking with connections from Prague. Bike trains will help you discover the entire area west of Prague towards Slaný. Another excellent option is to transport your bike on ferries; as is the case with trams, the metro and bike trains, bike transport service on ferries is free of charge. 
Bike Rentals in Prague
City Bike
Králodvorská 5, Prague 1
(+420) 776 180 284
City Bike offers guided bike tours, bike and boat tours, and bicycle rentals…
Central European Adventures
Jáchymova 4, Josefov, Prague 1, t. 222 328 879
Bicycle tours to Karlštejn and the Koněprusy Caves and other day trips around Prague.
Praha Bike
Dlouhá 24, Prague 1
(+420) 732 388 880
www.prahabike.cz
Guided bike tours, bike Rentals, internet Cafe, art gallery…
Cap
José Martího 31, Prague 6
(+420) 220 172 093
Dodo sport
Nové Mesto, Prague 2
(+420) 272 769 387
Harfa sport
Ceskomoravská 41, Prague 9
(+420) 284 811 212
Mipos
Za humny 4, Prague 6
(+420) 235 323 288
Skala sport
Cechova 3, Prague 7
(+420) 220 571 721, 605 258 670