City Buses
If you're staying in Prague, you probably won't be using buses unless you stay in some obscure suburbs. Also, buses are not allowed in the city centre as they produce noxious fumes, and the streets are too narrow, so they transport people from the suburbs to tram and metro stops outside the centre. Tickets are available from all the usual agents (if you have a small change, you can buy tickets directly from a driver at an extra charge).
Throughout the night, 12 buses go to the outer areas not sewed by the tram and metro system. Night-time service is mainly provided by bus numbers 502 to 514 and 601 to 603.
Bus schedules are located at individual stops. Regular buses operate from 4.30 a.m. – 12 p.m. Daytime buses run from 4:30 a.m. till midnight in 6-8 min. intervals in peak hours, 10-20 min. intervals in the off-hours, and 15-30 min. intervals on weekends. Night buses (numbers 501-512) run from 00:30 a.m. till 4:30 a.m. in a 40 min. intervals.
Basic fare: 32 CZK. Tickets purchased from the driver: 40 CZK.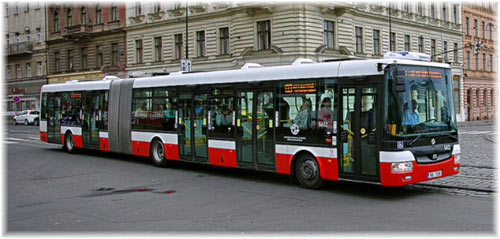 InterCity Buses
For Bus departure and arrival information, dial Tel. 900919041 or Tel. 224 210 221 (for international departures). You can also visit the online timetable with prices at idos.
If you travel outside Prague, then a bus might be quite a good option, as they are usually cheaper than travelling by train. CSAD and Student Agency operate most services.
International Buses
Prague is well served by Bohemia Euroexpress International, Eurolines, GTS International, Student Agency, and Capital Express buses, all of which reach numerous EU destinations. Most international buses are equipped with cushier seats, magazines, and even entertainment and wi-fi internet. You can buy your tickets in advance, though most operators allow you also to purchase directly from the driver.
Main Bus Stations in Prague
Most international connections terminate in Prague at the Florenc station.
– Florenc – Praha 8, Krizikova (Metro lines B and C, Florenc). The main bus station serves all international and long-distance domestic routes. (from here you can get to the centre by metro line B in about 5 minutes)
– Na Knížecí – Praha 5, Nadrazni (Metro B-line, Andel). Serves domestic routes.
– Holešovice – Praha 7, Partyzanska (Metro C-line, Nadrazi Holesovice)
– Roztyly – Praha 4, Rysaveho (Metro C-line, Roztyly)
– Černý Most – Praha 9 (Metro B-line, Cerny Most)
Smaller Bus Stations
– Želivského – Prague 2, close to Vinohradska Street (metro line A station Želivského)
– Hradčanská (Dejvická) – Prague 6, Milady Horákové (metro line A Hradčanská) 
Special Wheelchair Accessible Buses
Special bus lines 1 and 3 providing transport for disabled persons in wheelchairs connect the suburbs Černý Most, Jižní Město, Nové Butovice and Řepy with the centre of Prague (Metro station Florenc) where the change of lines is possible. These lines are in service during the working days only.
Ticket Sales
You can book a ticket on any 3000 domestic and international services at www.amsbus.cz. Tickets can then be picked up at any AMS office.
Eurotours.cz (Eurolines and Student agency)
veolia-transport.cz (Prague and some Czech regions, international transport within EU)
elines.cz (International lines)
Studentagency.cz (International EU and domestic lines)
Regabus.cz (East Europe)
Kavka-bus.cz (Prague – North Bohemia direction)
Ropid.cz (Prague – Central Bohemia)
Letuska.cz (Prague – Western Bohemia)