Visitors can learn more about Charles Bridge, its construction, its changes over the centuries, and its works of sculpture. Visitors can also learn more about the predecessor of Charles Bridge – Judith's Bridge.
The midpoint of the exhibition is a newly-made model of the bridge in the 14th century, depicting its construction, material transport, building machines and even 350 workmen in working clothes with their instruments. Construction of the model took a year and a half; it is a masterpiece like no other in the whole republic, in its detail and accuracy. Reconstruction work also includes, by use of special technology, local stonecutters' marks. Those are hidden to an ordinary pedestrian, as they stayed visible only at water level, in the Old Town bridge tower and on the bottom side of the bridge arches. The most interesting marks are displayed in the 'touch' part of the exhibition, intended for the sightless.
There are also other temporary exhibitions and a museum souvenir shop.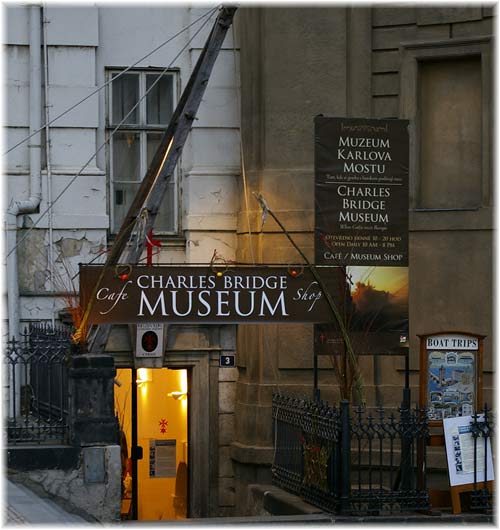 Museum shop – the souvenirs from the museum shop feature the history and subject matter of the Charles Bridge and its surroundings, the person of Charles IV, Prague history and Czech art. Our shop offers both popular and expert books, medium-sized publications, reproductions, posters, postcards, calendars, and a plethora of little souvenirs. You can find a wide range of gift products in our shop, all made by traditional Czech producers and artisans devoted to the making of historical replicas (glass, metal, leather, jewellery, pottery, handmade paper, etc).
Opening hours: daily, May – Sep from 10am to 8pm; Oct – Apr from 10am to 6pm
Location: Křižovnické náměstí 3 (next to the Charles Bridge); website
Admission: 150 CZK, 33% discount with Prague Card