At Mount Charles, the highest point of the New Town of Prague, Charles IV built a church in honour of St Charlemagne (meaning Charles the Great) and a monastery for the canons regular of St Augustine. The octagonal church is an unusual layout and was built along the lines of the funeral chapel of Charlemagne in Aachen. On 18 September 1350, Charles IV personally laid the foundation stone for this church. He also dedicated to the reliquary at the same time apparently rare relics from Aachen – three preserved teeth of Charlemagne. The construction of the church lasted for 27 years. During the Hussite wars, it was considerably damaged, and after the Catholic victory, it was also dedicated to Mary.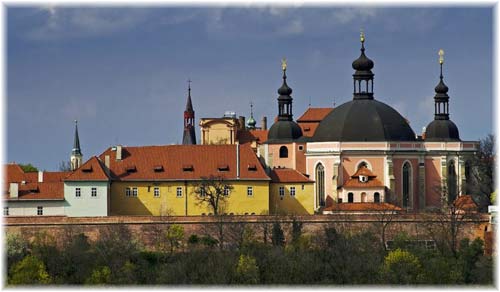 Today the Church of Our Lady and St Charlemagne has an especially unique central Gothic arch with a diameter of 22.8 m, which rests over the area without any central support.
The Legend about the Builder
This vault is connected to the builder's reputation, who drowned due to the unique proximity to the Vltava. When the work was done, the builder set fire to the scaffolding, which at the time was the common way to dismantle it. There was a thunderous roar, and all those present fled. The builder assumed that the dome had collapsed, and in his immediate emotional state, he ended his own life. However, only a wooden ceiling and auxiliary structures had fallen, and the rest remains today. Despite many rumours, the fact remains that the extraordinary name of the builder is not preserved.
Picture of Virgin Mary
But a picture has been preserved from the late 17th century, which shows the pregnant Virgin Mary. This image is called the Virgin Mary Karlovska – protector of pregnant women – and miraculous power has been attributed to this picture of the future mother. Women brought gifts to their guardian, but the original of this painting was later transferred to the nearby church of St. Apollinaire. It is also worth mentioning that the original church painting, the fresco beneath the choir, portrayed Jan Zizka on horseback with a mace in his hand. 
Location: Ke Karlovu, New Town; In Czech: Kostel Panny Marie a Svatého Karla Velikého