Prague has around 35 cinemas, most of them showing Western movies and Hollywood blockbusters, and at some of them, you can see Czech films as well. Dozens of cinemas are located close to Wenceslas Square. Generally, movies are screened in their original language with Czech subtitles, but some are dubbed in Czech, so check before you go. Hollywood blockbusters may be dubbed in Czech, but other films are usually shown in their original language. Tickets cost from 100 CZK to 200 CZK.
An international film festival is held in Karlovy Vary every March, lasting for 10 days. For comprehensive weekly films listing, check Prague Post newspaper or Downtown magazine. For online Prague Cinema listing, check www.prague.tv/cinema-listings
All about Czech Cinema – www.pragueonfilm.co.uk
Prague Popular Cinemas
Cinema City Slovanský dům
This cinema has quickly earned its reputation as the home for commercial films and as a host for film events, premieres, and the highly popular annual FebioFest held every February. The screenings are in English.
Location: Na příkopě 22 (look for shopping centre Slovanský dům), website
Tickets: from 179 CZK.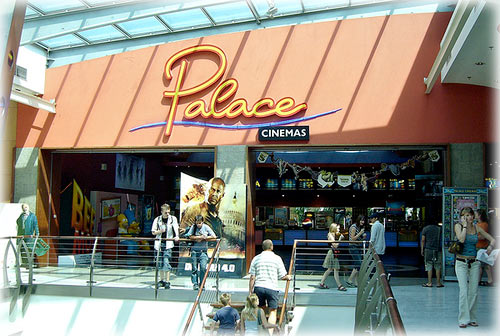 Gold Class tickets are available. You can sit in armchairs and eat and drink to your heart's content.
Location: Radlická 1E, Praha 5. websiteTickets: from 159 CZK.
This is a good choice if you want to see some Czech films with English subtitles.
Location: Vodičkova 41, New Town (metro station Můstek). website
Tickets: from 100 CZK.
This is one of the oldest cinemas in Prague. Both Czech and English language films are screened here.
Location: Vodičkova 36, New Town. website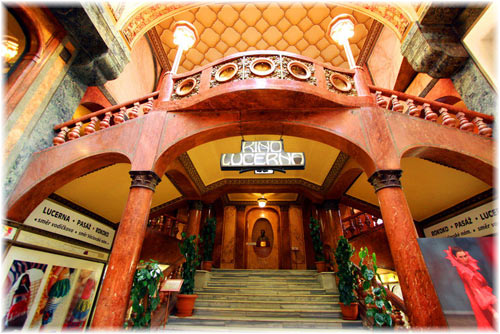 Location: Vinohradská 149, Prague 3, website Tickets: from 159 CZK.
Location: Veselská 663, Prague 9, website
Location: Plzeňská 8, Prague 5, website
Cinema City Park Hostivař
Location: Švehlova 32, Prague 10, website
Czech Films
Kolja – Jiri Sverak director 1996 (awarded of best foreign film at the Cannes Film Festival and US Academy Awards)
Musime si Pomahat (Divided We Fall) 2000
Vesnicko ma strediskova
(Sweet Little Village) Drictor Jiri Menzel
Ostre Sledovane Vlaky
(Closely Watched Trains) Director Jiri Menzel 1966
Cerny Pert (Peter & Paula) Directed by Milos Forman 1963
About Czech Cinema
Czech cinema can hardly compete with Hollywood films. So far, there have been only a few good Czech films that are worth seeing. Czech film studios at Barandov are quite known for their animated and puppet films. The pioneer of Czech cinema was Jan Krizenecky, who made 3 American style comedies shown in 1898.
Jan Krizenecky was our first Czech filmmaker. The cinema arrived in the Czech lands of the Austro-Hungarian empire on 15 July 1896 when the Lumière Cinématographe was demonstrated by one Goldschmidt, working for the Lumière concessionary Eugène Dupont, at the Casino, Karlovy Vary. Numerous travelling showmen visited Karlovy Vary and Prague thereafter with film projectors in tow throughout 1896, but two years later, the first native Czech films were made. Jan Krizenecky was an architectural student and a keen photographer who had visited Paris and, with colleague Josef Pokorny, purchased a Cinématographe. In June 1898, he first exhibited at the Architecture and Engineering Exhibition in Prague some short actualities and three short comic films under Cesky Kinematograf (Czech Kinematograph), thus making cinema part of the growing demand for Czechs to be recognised as a nation. The films were Dostavencicko Ve Mlynici (Appointment at the Mill), Plac a Smich (Tears and Laughter) and Vystavni Parkar a Lepic Plakatu (The Billsticker and the Sausage Vendor), and all three-starred popular comic café performer and postcard publisher Josef Svab-Malostransky, who went on to have a very successful film career lasting until his death in 1932. Following these first experiments, Krizenecky filmed various topical events with his modified Cinématographe, notably the Sokol sports festival in Prague in 1901, taken from a high tower to capture the full effect of the spectacular gymnastic display, an event that he would return to annually. He continued to write and direct films over the next decade, eventually working for Kinofa, the first Czech film company. Leaving the world of film in 1910, he went on to work for the Prague city archive. 
Cinema Festivals
This is an international film festival features production by international filmmakers.  www.febiofest.cz

It's a festival of Roma culture with performances of music and dance, exhibitions of photography and art. Held in Old Town usually in late May. www.khamoro.cz
You can meet writers from all around the planet. Discussion and bookshops events. www.pwf.cz
This festival is dedicated to human rights with a screening at some Prague cinemas. Held one week in April. www.oneworld.cz
International book festival. Author readings, exhibits, seminars, mostly in English. www.bookworld.cz
Did you know? Casino Royale (2006 film, James Bond series) was primarily shot at Barrandov Studios in Prague, with additional location shooting in the Czech Republic, the Bahamas, Italy, and the United Kingdom.