If you love castles, then Karlstejn is where you should be going. Situated approximately 30 km southwest of Prague, Karlstejn is the most famous Czech medieval castle. With an average of 300,000 visitors a year, it is the prime choice between visitors to Prague when they think about where to go for a day trip.
Between 1348 – 1355 under Charles IV, Castle was built to serve as a treasury for coronation jewels and state documents. It was altered in the renaissance style in the 16th century and in pseudo-gothic style at the end of the 19th century.
In its Holy Cross Chapel, there is a unique collection of 132 gothic desk paintings by Master Theodosius dating from 1360. Rooms possible to visit with a tour include the wood-panelled Audience Hall, the Luxembourg Hall and the Church of Our Lady, which has a fine timber ceiling and fragments of 14th-century fresco painting. The magnificent Chapel of the Holy Cross in the Great Tower contains copies of 14th-century panels by Master Theodoric. The walls of the chapel are inlaid with over 2,000 semiprecious stones.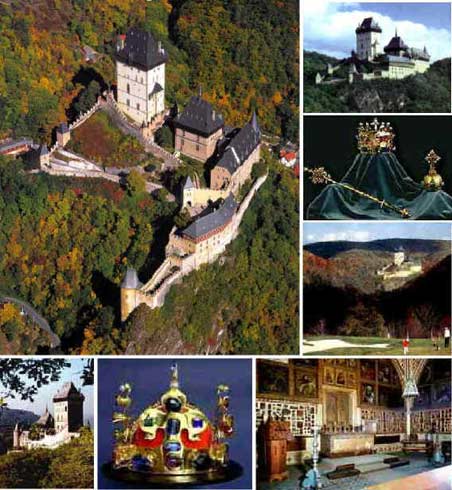 St. Mary's Tower – Perhaps the most famous item in this tower is a painting of Charles IV, where he is seen receiving two of the thorns from Jesus' crown from the French Dauphin, also named Charles.
Holy Cross Chapel – This amazing building has a unique collection of 129 different portraits hanging from its walls, mostly of saints and monarchs. They were all completed by Master Theodoric, who was the court painter to Charles IV.
St. Catherine's Chapel – This was a building used for meditation by Charles IV and is decorated with a huge number of different paintings and precious stones.
The Well Tower – This tower is found at the lowest part of the castle and contains a wooden treadwheel, which used to be used to collect water.
Castle Tours
There are two tours through the castle, the first pass through the Knight's Hall, Charles IV's Bedchamber and the Jewel House (includes treasures from the Chapel of the Holy Cross and a replica of the St Wenceslas Crown). The second takes you to the Great Tower, the museum on Mocker's work, the Marian Tower, and the Holy Cross's Chapel. It is best to book the second tour well in advance because due to strict control over the regulation of air, only 12 visitors are allowed inside of the Chapel of the Holy Cross at a time. In summer there are often historical exhibitions.

Admission: Depends on the tour 200 CZK or 300 CZK.
Getting there
Situated 35 km from southwest of Prague. You can take a train to Beroun from Hlavni Nadrazi (Main Station) or Praha-Smichov and stop at Karlstejn (40 minutes, hourly). Tickets cost around 60 CZK. But to save a hassle, it is better to book a guided tour with organized transport. More info www.hradkarlstejn.cz
Opening hours of Karlstejn Castle
Castle is open every day in summer, Mondays excluded from 9hrs to 17hrs. In July and August, it closes late at 18hrs.
March: Tu – Su 9 a.m. – 12 a.m., 1p.m. – 3 p.m.
April, October: Tu – Su 9 a.m. – 12 a.m., 1 p.m. – 4 p.m.
May, June, September: Tu – Su 9 a.m. – 12 a.m., 12.30 p.m. – 5 p.m
July, August: Tu – Su 9 a.m. – 12 a.m., 12.30 p.m. – 6 p.m.
November (till 20. 11.), December (from 26. to 31.12. only), January (1.1. – 9. 1.): Tu – Su 9 a.m. – 12 a.m., 1 p.m. – 3 p.m
Tip: you can hire a helicopter, 10 minutes flight for 4600 CZK for up to three passengers.
Karlštejn Castle History
Discover the impressive Bohemian Gothic Karlstejn Castle, built in the 14th century by Charles IV, the Czech King and Roman Emperor. At that time, the castle held the treasure of the Holy Roman Empire, including the imperial coronation jewels. The foundation stone of Karlstejn was laid in 1348, and the main building works lasted to 1356, the year of Charles' coronation as emperor. Charles IV devoted care to the rich interior decoration of the castle until the time of his death in 1378. The castle was modified in the Renaissance style and re-built in the purism style between the 19th and 20th century.