This colourful parade of allegorical vehicles, sexy dancers, jugglers, and drummers occurs in Prague during September. Inspired by the world-famous carnivals, especially the one in Rio in Brazil, Prague Carnival is a pageant of merry crowds in colourful masks.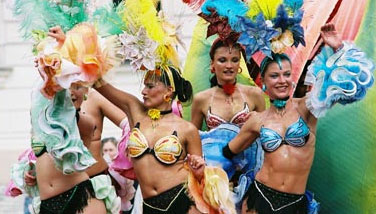 Artists create allegorical vehicles to support salsa and samba dancers from groups who come from throughout the whole republic, with the support of dancers from Cuba, Brazil, Panama, Ecuador, Germany, England… Music is played by Latin-American DJs and also by live groups.
Anyone can participate in the festival parade by playing portable drums, percussions, or whatever comes into one's mind, to come to dance or sing. There is something special in walking with the crowd in the streets, even though it won't be as massive as the Brazilian Rio classic, but of course, if there is good weather, the crowd is going to make it a happy event which would be a pity to miss.
If you prefer partying at a particular spot, the Smichov beach is the place where the party ends, so it's easy to head there and have a Brazilian cocktail.
Admission: free.
More info: website.