The collection of Prague Castle Gallery is housed in the beautiful Renaissance stables at the northern end of the Second Courtyard. It contains around 400 paintings and drawings from 16th- to 18th- century European Art. These paintings have been carefully selected from about 4,000 that are currently in possession of Prague Castle. A few works have survived from the legendary collection of Rudolph II, but most were lost as spoils of war during the 17th century, moved to Vienna or sold – either to the Saxons or in the 'Josephine' auction of 1782. The following are regarded as the most valuable paintings in the collection: Titian's Toilet of a Young Lady, Tintoretto's Flagellation of Christ and Rubens's The Assembly of the Olympic Gods. There are other major works by great artists including Hans von Aachen, Domenico Fetti, Bartolomeo Spranger, Paolo Veronese and Jacopo Bassano. Gallery II holds temporary exhibitions and has a small permanent exhibition of pieces from the reign of Rudolph II. Czech art is represented by artists of the Baroque period by Kupecký and Brandt.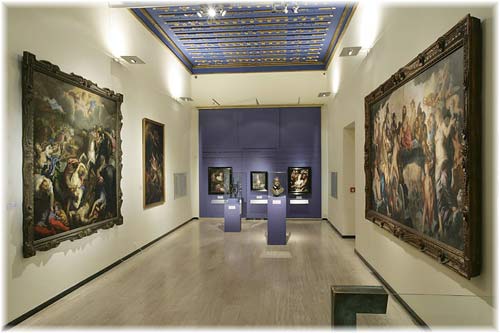 Location: Obrazárna Pražského hradu, Prague Castle Second Courtyard
Admission: 100 CZK
Open: daily 10am-6pm.