The Waldstein Riding School is located in the garden of the early Baroque palace constructed for Albrecht of Waldstein by Italian architects Andrea Spezza and Nicolo Sebregondi. Now consists of exhibition facilities of the National Gallery, open only for exhibitions.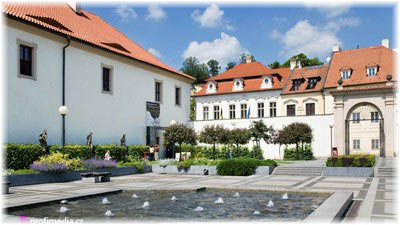 Location: Valdštejnská 3, Lesser Town
Opening hours: daily except Monday: 10–18, occasional exhibitions
Getting there: Metro A – station Malostranská
Admission: 100 CZK, admission free with Prague Card
Waldstein Garden
An early baroque garden of the strictly geometric design built concurrently with the Wallenstein Palace (1623–1629). The garden is dominated by an imposing sala terrena, worth seeing is also an artificial grotto with stalactites and stalagmites, a fountain with a bronze statue of Venus and a gallery of bronze statues by Adrian de Vries – these are, however, only castings of the original ones which were taken away by the Swedish army at the end of the Thirty Years' War.