The Basic 5%-15% Is Appreciated, but Not Mandatory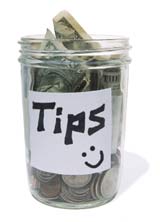 Also, many Czechs round the bill up. Leave cash on the table if you thought the service was good, or say 'Dobry' when paying your waiter; it means 'OK', as in, 'keep the change'. Or, when handing over the money, say how much cash you would like back. If you say nothing, you will receive the exact change. Some restaurants add a 'service fee' to the final amount, so the tip is included. If you are unsure, ask. Also, if you are unsure about any items on the check, it is wise to ask. It can be hard to figure out exactly what you are being charged for, and 'mistakes' are not uncommon. Even today, some establishments try to rip off tourists.
Tipping by Credit Card
It is considered undesirable, as many establishments will take some if not all, of a credit card based tip "for the house" rather than passing it along to the waiter. If you are paying by credit card, give the waiter tip in cash when she/he returns your paying slip or pay by cash and round the bill up as you are paying or leave a change on the table.
Be Aware
 

In some restaurants, the waiter may bring nuts, appetizers, bread to your table. Yes, they are for you to eat, but most likely, you will have to pay extra for them.
Some restaurants in Prague write little disclaimers stating that SERVICE IS NOT INCLUDED at the bottom of the guest check. By Czech law, service is always included, but a TIP is not included. The tip is a reward, not a right, so never, ever reward bad or rude service!
Unpleasant Personnel, Unsatisfactory or Poor Service
If during your stay you are unsatisfied with the level of service at your hotel, restaurant or travel office, try to solve your complaint directly on the spot with the manager or director of the given establishment. In this case, you will still always have the possibility of obtaining better service, whereas, after your return home, you may only ask for redress circuitously from the senior manager of the institution. If need be, you can also contact the Association of Hotels and Restaurants (www.ahrcr.cz) or the Association of Travel Agents (www.accka.cz).
Sharing a table: At restaurants where tables are shared, patrons should ask  'Is it free?' before sitting down. It's also polite to wish your fellow diners  'bon appetit' before tucking in.