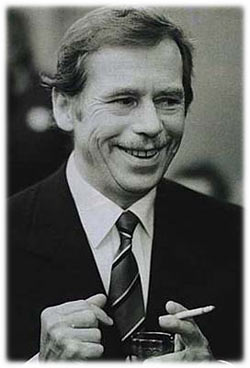 Václav Havel died at the age of 75 on Dec. 18, 2011, after a period of illness.
He was a Czech playwright and dissident and later president, one of the great men to emerge from the anti-communist revolutions.
The author of several anti-communist, absurdist plays (which landed him in jail several times) and a series of moving essays on the moral corruption of communism, Havel captured the support of the students leading the Velvet Revolution and went on to head the country. He quickly assumed the leadership of the anti-communist opposition. He was a crucial force in negotiating the agreement that eventually led the communists to relinquish power after 40 years of authoritarian rule peacefully.
Havel's rapid ascent from a lowly dissident to the Czech chief executive—in a matter of weeks—proves the weight of his writings. In essays like "The Power of the Powerless", Havel spoke of the power of ordinary citizens to internally and peacefully resist the communist authorities. His voice, it's safe to say, became the country's conscience.
Havel's time as president from 1990 until 2003, with some breaks, was quite a mixed affair. But if there was a success, it was in his image abroad. It's no stretch to say that much of the adoration and attention the Czechs received after 1989 was because of their universally respected president.
Havel's international significance is undisputed. He was the recipient of numerous prizes, including the Gandhi Peace Prize, Amnesty International's Ambassador of Conscience Award, an Honorary Fellowship from the Royal Society of Literature and many more. He was often named as a candidate for the Nobel Peace Prize.