Wenceslas Square is undoubtedly one of the most well-known area of Prague, however it is somewhere that does not appeal to every tourist that visits this wonderful city. This is the same with every city in the world though, as there is always a place filled with tourists and too busy for many; there is Leicester Square in London, Time Square in New York – the list goes on. So what are the different aspects of Wenceslas Square that people don't like and also what are the redeeming points that this highly popular area of Prague has?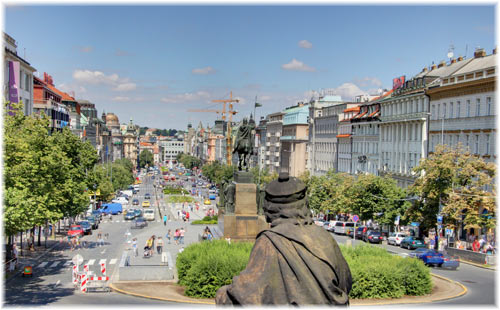 The main problem that most people have with Wenceslas Square is the crowds – due to the fact that every tourist heading to this city will invariably find themselves in this area of the city at least once every day. This means that it is incredibly hard to get a real feel for the area when you are surrounded by tourists who are all looking for souvenirs and photo opportunities at every single turn. The fact is though that those looking to experience the real Prague can do so very easily – simply head away from this area and into the less visited suburbs. A short trip on public transport will soon have you in the middle of the Prague that the city's citizens live in.
The other main problem that people have with Wenceslas Square is the prices, and for good reason. They are astronomically high when compared to other areas – in fact, a cup of coffee can be five times more expensive here than in less touristy locations. This is to be expected though and the fact that people keep paying this prices justifies the store owners for charging this amount – if you want a cheaper drink, go to a less popular area of the city.
It must be remembered that Wenceslas Square does offer a lot to people as well. It is the hub of Prague's entertainment and has some great shopping, so for many it is one of the highlights of their vacation. For this reason, Wenceslas Square can only be said to bring Prague down for some people – for others it is exactly what they are looking for and is an integral part of the city!