Karlovy Vary completely deserves its status as the second most tourist visited town in the Czech Republic. This famous spa town is located 130km from Prague in western part of Bohemia. Karlovy Vary gained its reputation thanks to the discovery of hot mineral springs, the history of which originates somewhere in the Middle Ages. If we want to be more precise city was discovered by Charles IV while he was hunting deer in the middle of the 14th century. In 1522 Dr Payer of Loket set out the properties of the waters in a medical treatise and their fame began to spread. By the end of the 16th century there were more than 200 spa buildings, but the town's present appearance dates mainly from the 19th century.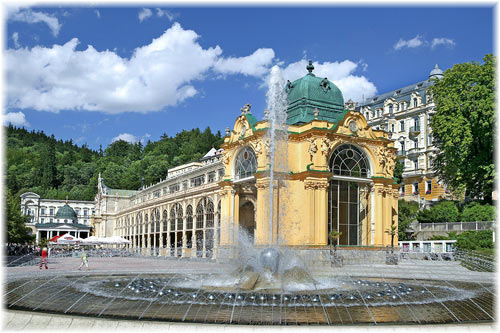 Today city is admired by tens of thousands of visitors every year, not to mention all the patients and guests undergoing treatment in the local spa houses. Mineral waters are used mainly for drinking cures – which are the most important part of the spa treatment. There are 12 hot springs in use and you will get the chance to taste them. The best known spring is Vridlo – the sprudel which belches its curative waters to a height of 10 m. It is also hottest one, at 72°C (161 °F).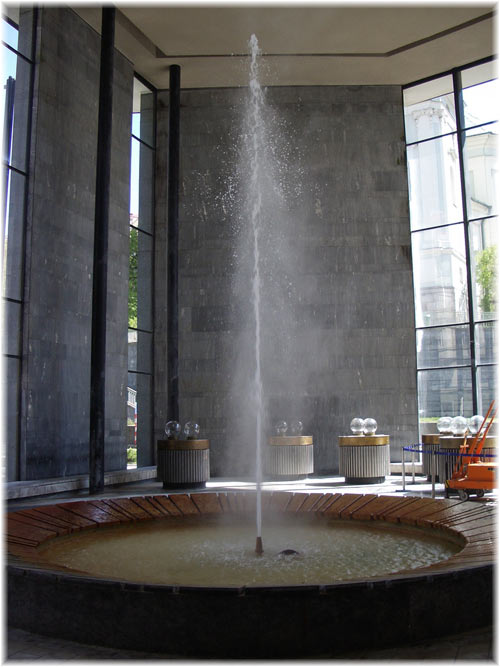 Many famous personalities have visited this town including: Ludwig van Beethoven, Frederic Chopin, Franz Liszt, Johann Wolfgang Goethe, Friedrich Schiller, Alexei Tolstoy, Antonin Dvorak etc. Karlovy Vary has impressive modern and historical architecture, and the most beautiful colonnades. It is a town where the beauty of nature and the nobility of the spa are blended in harmony. You can promenade along the colonnades, see a whole number of interesting buildings and enjoy the comfort of top restaurants. You can walk in the quiet and very beautiful spa parks.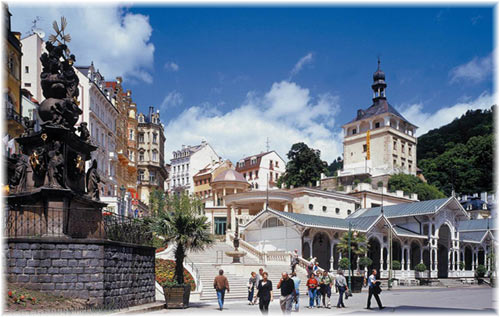 Karlovy Vary is not only the venue of the famous International Film Festival, but also a longstanding festival devoted to films promoting the travel industry. It is not by chance that prominent artists, business people and bankers visit Karlovy Vary, and that increasing numbers of young people and proponents of the healthy life-style are attracted by the spa. Traditional spa care is one attribute of Karlovy Vary. However, new relaxation and wellness programmes are becoming increasingly popular. For instance, the area of Karlovy Vary has also become a veritable paradise for those that like playing golf. When we talk about all reason we should also point out that Karlovy Vary is renowned for herb liquor called Becherovka, after the doctor who invented the recipe while working at the spa in the early 1700s.
Attractions in Karlovy Vary

Getting around is easily done on foot, just follow the path of the canal which takes you past areas of interest such as the Thermal Spring, the Regional Museum , the Mill Colonnade, the Grand Hotel Pupp and a lots of boutiques, gift shops, cafés and restaurants.
– Cable car to the Diana lookout point, enjoy a sensational 360 degree view of the entire city and surrounding area
– Russian Orthodox Church of St. Peter and St. Paul, buflt in the same style as the cathedral in Ostankino in Moscow
– Grandhotel Pupp, monumental complex of hotel bufldings, traditional centre of the International Film Festival
– Becherovka Museum offering excursions into the history and present of production of this world-famous liqueur
– Moser Museum with a beautiful exhibition of this firm's products
– Municipal Theatre, just one of a whole number of buildings designed by architects Fellner and Helmer
– Kilian Ignac Dienzenhofer designed the baroque Church of St. Mary Magdalene
Glasswork Moser, Karlovy Vary, Kpt. Jaroše 19, tel. 353 41 61 36/353 44 96 19, www.moser-glass.com.
The exhibition includes historic displays, glass-making tools, medals, decorations, as well as historical documents, photographs, design samples and catalogues of historical advertising materials. Another part of the museum is dedicated to the sovereigns and celebrities for whom Moser has provided its wares. Men blowing into tubes and going very red in the face in Czech, English, German or Russian. Very impressive and an excellent idea to keep warm as a winter trip. Museum open Mon – Fri 8:00 – 17:30, Sat 9:00 – 15:00. 50 CZK entrance to glassworks, entrance to museum is free.
Jan Becher Muzeum, Karlovy Vary, T.G. Masaryka 57, tel. 359 57 81 11, www.janbecher.cz.
Tour the factory where they make this peculiar Czech speciality by steeping sacks of herb mixtures in alcohol and then transferring the result to age in huge oak barrels. Open 9:00 – 17:00. Admission 100 CZK.
Grandhotel Pupp. The very beautiful Grandhotel Pupp is definitely worth a visit. The hotel is not very far from the theatre building, situated on Mírové Square in Karlovy Vary. Since being built in 1895 it has been reconstructed and, when the owners executed the principal unification of the buildings, arranged to provide comfort and luxury for its guests. The hotel also hosts the stars of the Karlovy Vary Film Festival and played a large role in the James Bond film "Casino Royale". www.pupp.cz
Chateau Hill – (Zámecký vrch) has been developed and integrated with the building complex of Chateau Bath. The structure was designed by architect Ohmann. The building's architecture is influenced by Eclecticism with numerous Art Nouveau elements and ornaments.
Tourist Information Centre: Lázeňská 1 Tel: +420 353 224 097
What's on: May – opening of Spa Season; Jul – International Film Festival
Getting there: Buses leave from Florenc Bus Station roughly every hour, and also call in at Dejvicka Bus Station and the airport on the way. The journey time is 2 hour 15 minutes (when traffic 2.5 hrs). Unfortunately there is not a direct train connection and thus it takes twice as long, almost 5 hrs. Bus ticket cost around 120 CZK. Distance: 130 km west of Prague.
Tip: 10hrs Karlovy Vary Excursion