The small municipality of Lidice is situated northwest of Prague (just a 30-minute drive away) and can be easily visited as a half-day trip from Prague. During the Second World War, the village of Lidice suffered enormously due to a Nazi search for those responsible for assassinating Reinhard Heydrich, a representative of the Reich protectorate, in May 1942. For a variety of reasons, Lidice was named the village that had harboured the assassins, and as a result, its fate was sealed.
A thorough search for Heydrich's killer followed the assassination of the Reich's Protector of Bohemia and Moravia. On June 10, 1942, Lidice was razed to the ground; the men of the village were shot, and its women were sent to concentration camps. The village children were sent to "be appropriately brought up". Even the name of the village was wiped off the map.
The fate of the children was particularly tragic. Most of the more than one hundred children were gassed to death, and only 17 survived the war.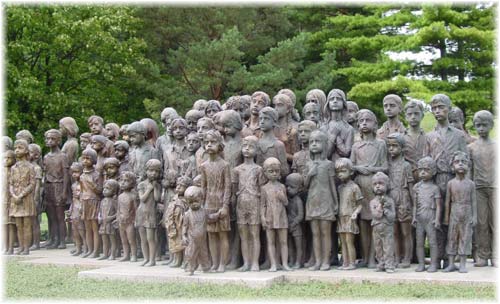 The re-establishment of the village began soon after the liberation of Czechoslovakia in May 1945. On June 3, 1945, Red Army soldiers erected a monument at the grave of the men of Lidice. The place was later declared a national cultural memorial. The area also includes a statue of a woman mourning at the gravesite and a statue of a mother with children located on the foundations of the original school.
By the beginning of the 1950s, more than 100 homes were built not far from the original site. Its Rose Garden became symbolic of the continuity of life and was created with a donation of 29,000 rose bushes from 32 countries.
A memorial to the fate of the children of Lidice was also established. It was created by the artist Marie Uchytilová and also serves as a memorial to the child victims of war. The memorial is made up of 82 larger-than-life-sized statues of the children of Lidice and represents every child who died in the Lidice tragedy. The work was completed in 2000 on the basis of the artist's plaster version.
Visitors can learn more about the fate of Lidice by visiting the Lidice memorial museum.
Address: Lidice Memorial, 273 54 Lidice t. 312 253 702, www.lidice-memorial.cz
Open: Apr-Sep daily 9-6, Oct-Mar daily 9-4, Jun: memorial day.