Old Town's ancient town hall was established in 1338 after the agreement with King John of Luxemburg to set up a town council. It was not built as an integral whole. The Old Town Hall is actually a row of houses adapted over the centuries by the council as the Old Town Hall expanded. A Gothic chapel and a neo-Gothic north wing were destroyed by the Nazis in spring 1945. The chapel has been reconstructed by Vojta Sucharda.
The most popular part of the tower is the Town Hall Clock (know as Astronomical Clock). Originally installed in 1410, the clock was rebuilt by Master Hanus in 1490. It consists of three parts – the procession of Apostles, the astronomical clock and the calendar. The main attraction is the hourly procession of the 12 Apostles. A cock crows, and time is up for the Turk, who shakes his head in disbelief; the Miser, who eyes his bag of gold; and Vanity, who admires himself in a mirror. The height of the tower is 69,5 m, and it offers a great view of the city. Inside is the council chamber where Bohemian kings were elected and a chapel with a distinctive oriel window. Climb the clock tower for great views across rooftops of the city.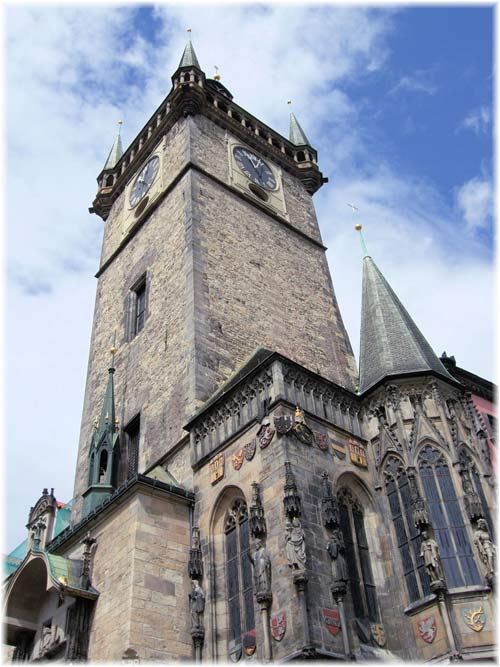 Old Town Hall with the Astronomical Clock
Address: Staromestske nam. 1, Prague 1 (Old Town Sq.)
Open: Mon 11 am- 6 pm, Tower 11 am – 8 pm, Tue to Sun 9 am-6 pm, Tower 9 am – 8 pm (unless the building is closed for a special occasion when used by the Mayor of Prague)
Admission: 100 CZK (Town Hall), 100 CZK (Tower), admission free with Prague Card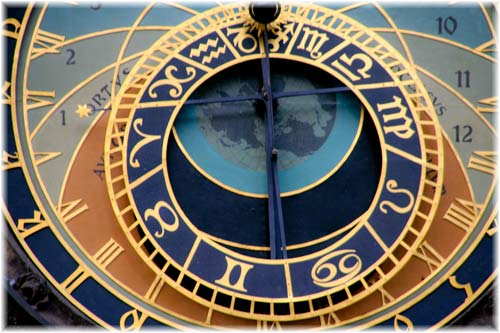 Did you know?  The statues of apostles parading in the windows above the astronomical clock every hour are not originals; they were destroyed by fire, darning the Prague Uprising on May 8, 1945.