Thieves operate in crowded and touristy locations, mostly in teams.
Tourists, especially foreigners, are an easy target for pickpockets in Prague. Be careful when visiting tourist-packed places such as Charles Bridge, Old Town Square, and Wenceslas Square. Pickpockets usually work in teams and possess an arsenal of expert techniques to ease tourists' money and other valuables. They often use mobiles to put together their bumps and grinds and are mostly hunting for cash, credit cards, IDs, passports, mobiles and cameras. Crowded tram and metro are among their favourite trap settings. Be very alert when getting on/off a tram, especially no.22 or no.23, and if someone creates a fuss at the door of a Metro or tram car, it's a smokescreen for theft.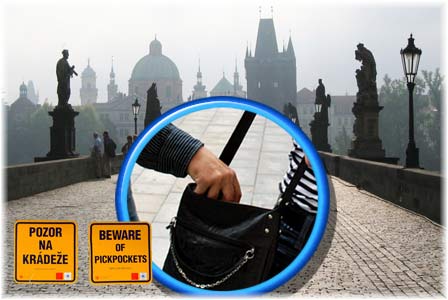 Over the last years, the Prague police have registered a decrease in the cases of pickpocketing. But despite that fact, Prague remains among the top five pickpocketing cities in the world, along with Barcelona and Rome. Every year, police register about 7500 to 10,000 reports of pickpocketing, with a clear-up rate of less than 2%.
Most pickpockets work in gangs of between two and ten people. Organised gangs have their hierarchy. One finds a victim, another one picks the pockets, others do the wall, and the rest watch out for a police officer in disguise. When in the underground, they even jam the door. Other, mainly Arab, groups operate with knives who steal bags in restaurants, the metro and similar places. These thieves are very inventive and can steal a bag even when the victim has it beside their leg.
Prostitutes also operate as pickpockets. Drunk people, especially tourists in the city centre, frequently fall prey to pickpockets. You might be walking down the street and be approached by two or three girls offering sexual services. When they have picked his pockets, they disappear.
There are several places in Prague with an increased risk. In the first place is public transport, especially the metro and the tram at peak hours, where fighting against pickpockets is tough. Another favourite place for pickpockets is Prague Castle, especially the entrance to the Golden Lane, St Vitus Cathedral, Charles Bride etc.
Most of the gangs committing the petty crime are Slovaks, Romanians, Bulgarians, Arabs and Poles. The most affected tourists are Brits, Slovaks, Italians, French, Dutch, Americans and Spanish.