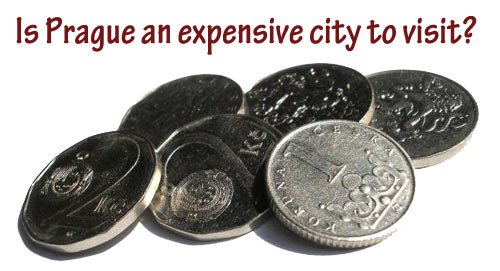 Apart from accommodation prices, city centre restaurants and other tourist attractions, Prague is still quite cheap compared to other EU countries. For luxury goods shopping like electrical appliances, cosmetics and fashion, prices are higher here than elsewhere.
An average tourist will spend around 2500 CZK (100 EUR) per person per day. The lowest daily budget can be as low as 900 CZK if you stay at hostels, eat takeaways and use public transport. If you stay in private accommodation, eat at average restaurants but control your budget, you can get by on 2500 CZK a day. On the other hand, if you stay at top hotels, eat at top-end restaurants and use cabs you could easily spend 10.000 CZK a day. Please do not expect Prague to be extremely cheap and remember that only some products are much cheaper here (like beer, food in supermarkets, transport remain relative bargains compared to other European capitals, but the gap is closing). In general, Prague is getting more expensive every year. One reason for this is that since the Czech Republic joined the EU, everything tends to be more expensive than before. Another recent factor making Prague more expensive is large gains in the value of Czech currency. Attractive hotels range between 3500 CZK and 6000 CZK for a double room. Dinner for two with some drinks at a fancier restaurant can cost around 2000 CZK. Hotels in Prague suburbs can cost as low as 700 CZK for a single room. Staying in a hostel dormitory room for one costs 400 CZK (but can be found for as low as 250 CZK). A beer in a pub outside the centre will cost around 25 CZK (though in the heart of the city, this will cost up to 80 CZK), and a special lunch menu can cost from 60 to 100 CZK. A pack of Marlboro cigarettes costs 84 CZK, a 0.5 L bottle of water 15 CZK, a loaf of bread 22 CZK, a litre of petrol costs around 32 CZK, and a cup of coffee in a city cafeteria is 45 CZK. Cinema tickets cost up to 200 CZK.
If you want to lower your expenses, you should avoid city centre hotels, restaurants, night clubs and shops, or ask locals where they're going out. Visiting galleries and museums is not expensive, and some of them are admission free.
Price Examples

Restaurants
Dinner in a midrange restaurant – 600 CZK
Lunch in a pub – 150 CZK
Local beer (0,5litre draught) – 30 to 80 CZK
Soft drinks – 35 CZK
Transportation
Taxi Airport to City centre – 600 CZK
Taxi within the city centre – 180 to 250 CZK
One day pass public transport ticket – 110 CZK
Accommodation
Room in the flatshare city centre – 7000 CZK/month
Room in flatshare outside the city centre – 5500 CZK/month
Flat (2 rooms + kitchen) city centre – 20000 CZK/month
Hostel (dormitory) – 300 to 600 CZK/night
The average monthly salary in Prague
is about 30.000 CZK (around 1300 US$ or £1000). This is not enough for locals to live comfortably in the city centre, but you can manage quite well if you live in the suburbs. The minimum wage in the Czech Republic is around 8000 CZK (or 48 CZK per hour / 1.70 GBP), but if you earn this in Prague, you would be unable to survive unless you stay with your parents! The cost of living in some villages in poorer regions can be as little as one-fifth of the capital cost.
Czech currency
is called Koruna (Kc or CZK). Banknotes are in denominations of 100, 200, 500, 1000, 2000 and 5000 CZK. Coins are of 1, 2, 5, 10, 20 and 50 CZK. Koruna is then divided into 100 halers (h). The Czech crown has been fully convertible since 1991. Czech Republic (Prague) do not use the Euro currency yet.
Cash and traveller's cheques are possible to change in all banks, hotels and exchange offices.

Exchange offices most often offer a more convenient exchange rate but charge a rather high exchange fee – check ft first. Do not change money on streets – you run a risk to obtain invalid or false banknotes.
Exchange rates

For 1 EUR you will get approx. 25 CZK, for 1 USD approx. 19 CZK, for 1 GBP approx. 30 CZK. You can also check today exchange rates at the most recommended exchange office website in Prague. 
Entrance fees
Entrance fees to the Prague historical places of interest, museums and galleries are usually between 80 to 150 CZK. Some of the private museums are more expensive. The admission fee charged at some of the largest and most significant historical sites, such as the Prague Castle (350 CZK) and the Jewish Museum (300 CZK), appears to be rather high. However, the ticket is valid for visits to several places, and it makes it quite cheap. All the fees can be reduced because of the system discounts etc. and cards. Some of the places allow free admission on one of the days in a month.
Prague Economy

Prague is the wealthiest city in Central and Eastern Europe and wealthier than many in Western Europe, with a per-capita GDP (PPP) of EUR 32,357, which is 153% of the EU average. The GDP per capita of Prague is more than double that of the Czech Republic as a whole (this not reflect the whole country). Life in Prague, as you, as a visitor, will experience it, is still out of reach to many working-class Praguers.  Food and transport remain relative bargains compared to other European capitals, but the gap is closing.
Money tips
– Don't carry a large amount of cash
– When you're going to a place where you know you can pay with a credit card, take one and limit the cash.
– Try not to show how much money you have in your wallet.
– Never leave your wallet lying free on a table or anywhere else. Best to keep it is in a closed pocket. Those secret pockets like I have seen once (in underpants or a bra) are maybe a little exaggerated.
– If you know a little Czech, don't worry about asking more times when you don't understand the exact sum at the counter. And if you don't, try to pretend you do.
– If you go through or to a hazardous place, divide your money into two halves and store them in two different places. Then if you are mugged, there is a chance that the second half will pass unnoticed.
Despite all this frightening advice, the crime in Prague is no worse than in any other big city. For instance, the editor of this article is living downtown his whole life, and it never occurred to him that he would have to face any criminals. But still, pick-pocketing exists, and it is advised to be aware of it. 
Hotels values

Sometimes we see disappointed travellers coming to Prague for a romantic break when they booked so-called 3* hotels for an excellent price. Remember, if you find a very attractive special deal for a double room for 500 CZK, and it claims to be a luxury hotel – do some TripAdvisor.com check before booking (unless the price is top priority).
Tourist High Season
As a rule, the tourist season begins April 1st and ends October 31st. During this period, most monuments are open. Outside the season (except for the Christmas and New Years' holidays), accommodation and some tourist services tend to be cheaper.
Tip: Visit other cities outside of Prague – It's true about the prices, the further off the beaten path and away from the touristy streets, the better the prices.