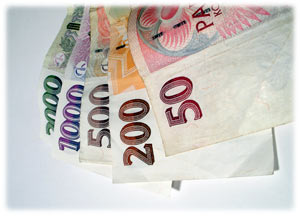 Avoid the touristy areas and all things which claim to be "traditional Czech culture", and immerse yourself in one of the most magical cities you will ever visit.
Affordable Food
With some shrewd manoeuvring, you will be able to circumvent the tourist trap of the Old Town and get your teeth into some affordable local favourite fried cheese (smažený sýr) or a Chinese take-away very quickly. There are many budget eateries in Prague: the key thing is to differentiate the "authentic" from the authentic (with no English speaking people present). Once you are bored of the local speciality dumplings (knedlíky), potatoes and heavy meat, Prague boasts many cost-effective grocery stores, where tourists can purchase lots of cheap items. And don't forget, in this city, that could charge you more for a glass of water than it does for its' beer, every meal ought to be accompanied by a tanked Pilsner glass.
Affordable Accommodation
You will not have to take out a second mortgage to fund your time in Prague. Because the city is growing increasingly popular with tourists from across the globe, affordable hostels are springing up to cater to them. As Prague is compact and the public transport system is efficient, virtually any neighbourhood serves as a convenient location to base yourself. As with most European capital cities, Prague is packed during the summer, so make sure you book in advance throughout the peak season while the budget accommodation is still available.
Some newly built "chic" hostels have appeared in the city's centre, such as Sir Toby's, Mosaic House, the Czech Inn and Miss Sophie's, so tourists able to pay a little more can stay in digs which are almost like hotels. Some of these boast free wi-fi and in-house restaurants.
Generally, the Old Town offers less and costs more, whereas the New Town offers more and costs less. There are numerous good hostels in Vinohrady, Lesser Town and Holešovice, but these might need a tram ride or a Metro to get to the sights. This could be a little too inconvenient for people only visiting Prague for a few days. As well as hostels, there is a student dorm network that functions as a hostel network throughout the summertime. These might not provide you with the authentic hostel experience; however, they are usually less expensive than most hostels.
Seeing the Sights on the Cheap
Some of Prague's best sights will not cost you anything to see. Stroll around and observe: you will discover anything from Art Nouveau show-pieces, such as the Municipal House, to painstakingly refurbished medieval churches, to dancing buildings (visit the Dancing House) to Communist eye-sores. Whenever you wish to go inside, the majority of sights provide a discount for students.
Fortunately for budget tourists, Prague is small, and you can visit many sights on foot should you need to. If you do not feel like walking, then trams are possibly the best method of getting around; they travel almost everywhere and, because they are over-ground, they can also function as a sight-seeing tour.
Finally, there are several complimentary walking tours, mainly beginning from Old Town square each day from 10 am or 11 am. See the colourful student guide umbrellas for in-depth walking routes.
Dancing the Evening Away
Prague might not boast quite as big a reputation for clubbing as some of the other European capital cities, however plenty of opportunities still exist to make yourself look foolish on the club dance floors. No holiday to Prague can be complete without visiting the renowned Cross Club. Alternatively, Radost FX, in Vinohrady, is a good venue to boogie to R&B, Hip-hop and House beneath 1 of the most cutting edge lighting rigs in the city. For the archetypal overseas study experience, visit the huge, industrial Roxy. There are no covers, so you are certain to get a full dance floor. You could also visit any of the clubs for students, such as Klub 007 in the dormitory (Strahov), where very cheap beverages and a nice ambience is guaranteed.
Classical Music, Opera and Art
Prague is a European capital city that virtually gives tickets away to its' major music, opera and theatre venues. The top venue in Prague for classical music is Rudolfinum, whilst the student rush program, presented at the Prague State Opera, allows students to witness a complete staged opera at the cost of a sandwich. The Festival of Prague Spring Music attracts the best small ensembles, soloists, conductors and symphony orchestras in the world to Prague each year. Request a student discount.
In Prague, What Will One Active Day Cost Me on a Budget?
Allow for an average of 400-600CZK per person per night for a pleasant dorm room in the city centre, plus 110CZK for a public transportation pass, 100CZK for break-fast, 150CZK for lunchtime (and a drink), and 250CZK for dinner with several beers. You could add some grocery shopping for 100CZK, 1 entrance fee for each of the primary tourist sights daily (such as a brief tour of the Castle), and about 300CZK for the Jewish Museum. This comes to about 1400CZK daily (55 Euros). Obviously, you may be able to lower these costs to about 800-900CZK daily if you go self-catering or if you skip the interior sightseeing tours.