Old Town (Staré Město) lies beyond the Charles Bridge, then stretching down to the Old Town Square. Old Town is positioned on a bend in the Vltava River and grew up around Old Town Square, then stretching down to Charles Bridge and east out to Celetna Street. For tourists, it is definitely the most interesting Prague Quarter, consists mainly of narrow streets and arcaded courtyards that conceal gabled houses, small shops, churches and taverns.
Old Town was the original place of settlement in Prague. In the 14th century, Charles IV expanded the city by founding the New Town. Na Prikope Street separates the two parts of Old Town. Notable places in the Old Town include the Old Town Square or Astronomical Clock, Church of Our Lady of Tyn and the Town Hall. Across the river, Vlatava is the Lesser Quarter (Mala Strana). The Charles Bridge connects these two parts of the town.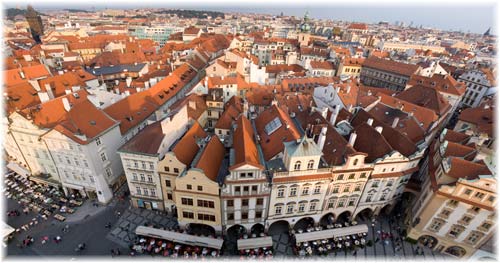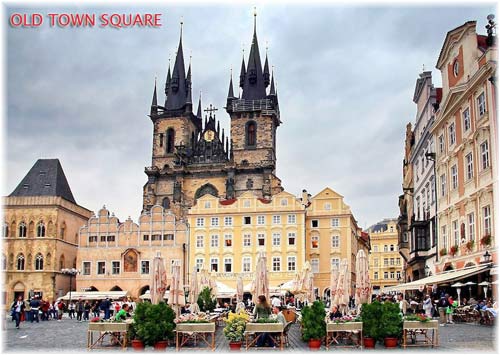 Old Town Square – Astronomical Clock
Today, the main attraction of the square is the Astronomical Clock.  Not only does this clock give the time of the day, but also the month and the current season.  In addition, it shows the signs of the zodiac (the traditional zodiac, not the new one that has recently been in the news), the sun and the holidays on the Christian calendar.  Each hour the figure of death (represented by a skeleton) will appear and ring a bell tolling the time, and the twelve Apostles will appear above.  In addition, a cock crows and the figurines such as the Turk shakes his head in disbelief, and the Miser looks at his bag of gold and Vanity checks himself in the mirror.
The oldest parts of the clock are the mechanical clock and astronomical dial, which both date back to 1410.  It is estimated that the clock façade and calendar dial were added around 1490.  The statues were added in the 17th century, and the Apostles were added during repair work from 1865 through 1866.
Visitors can also climb inside the clock tower for a spectacular view of the city's red rooftops.
Here we note some significant places of the Old Town worth your exploration.
– PALACE OF THE LORDS OF KUNSTAT AND PODEBRAD
– HOUSE OF THE BLACK MADONNA

– HOUSE AT THE STONE BELL
– CHURCH OF OUR LADY BEFORE TÝN
– UNGELT