This square is located in front of the Old Town Bridge Tower with nice views across the Vltava, named after the 13th-century guardians of the Judith Bridge. This small square is formed on three sides by the Church of St Francis, the Baroque Church of St Salvator and the Old Town Bridge Tower. In the centre of the square is a bronze Neo-Gothic statue of Charles IV unveiled in 1848 in honour of the 500th anniversary of the founding of Prague's Carolinum University. This imposing statue was designed by Jan Bendl.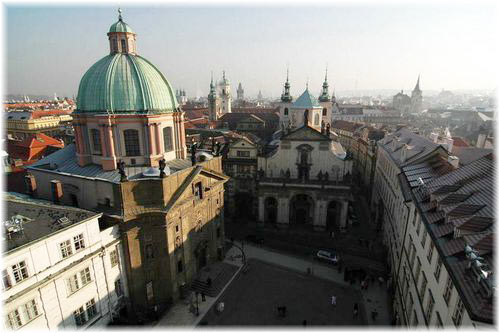 Church of St Francis is a baroque building which dates from 1679 to 1688. The church's dome is thought to have been modelled on the dome of St Peter's in Rome.
An exhibition at the side of the church includes a visit to the medieval crypt, which is decorated with garishly painted baroque stalactites. The treasury contains a collection of jewelled monstrances, chalices, reliquaries and other religious objects which belonged to the Order, some dating back to the 16th century. Perhaps of greatest interest is a surviving span of the 12th-century Judith Bridge, complete with water stairs.
Location: Křižovnické Square, Old Town
Exhibition: Apr—Oct Tue—Sun 10-6; Nov—Mar Tue—Sun 10-5