The Baroque church by the Old Town Bridge Tower is the St. Francis Seraphicus Church. It belongs to the Order of the Knights of the Cross with a Red Star – the only order of the knights founded in Bohemia. It has an interesting gallery where exhibitions occur, and you can attend a concert of organ music there.
Location: Křížovnické nám., Prague 1 (right next to Charles Bridge)
Other names:
– St. Francis of Assisi Church
– Kostel Sv Frantiska Serafimskho v Praze
– Kostel svatého Františka Serafinského (z Assissi)
Open: You can visit the St. Francis Seraphicus Church during the concert season – from April to November.
Church of the Knights of the Cross
The order was founded by St. Agnes of Bohemia in 1233. They built a Gothic church, a monastery and a hospital by the Judith Bridge, the predecessor of the present Charles Bridge. They maintained the bridge and collected customs and usage charges there. Their main activities were charitable – they took care of ill and poor people. That's why their monastery was one of the few not to be destroyed by Protestant Hussites in the 15th century: the Hussites appreciated their helpfulness in society.
The original church was rebuilt in Baroque style in the 17th century. The plans were made by French architect Jean Baptiste Mathey, who was probably inspired by St Peter's Cathedral in Rome. St. Francis Seraphicus Church has a large cupola and a nave with a ground plan in the shape of a cross.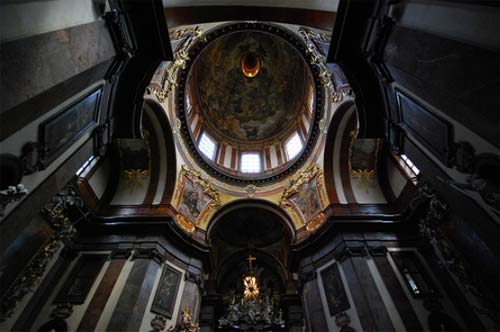 Underground chapel (Podzemní kaple)

Remains of the original Gothic church are preserved in the underground chapel, called the "bottom church". It is decorated with extraordinary artificial stalactites, and there are tombstones of important personalities of the order and some fragments of the former church.
You can see statues of Bohemian saints on the façade of the church. The interior is interesting as well, and the most important artists of the era participated in its decoration. The whole cupola is covered with a fresco painting called "The Last Judgement" by V. V. Reiner.
Gallery in the former monastery hospital
There is an exhibition space in the former hospital. Also, a fragment of the Judith Bridge can be seen there. A column with a statue of St. Wenceslas is placed by the corner of the church, and the paving around the statue belonged to the Judith Bridge in the 12th century. It is the oldest paving preserved in Prague.