If money is not an issue, you can sample some of the best gourmet restaurants in Prague. Our personal recommendations are the restaurants Bellevue with unparalleled views of Prague Castle and the Charles Bridge, Ginger and Fed for its excellent French cuisine and views of the Prague skyline, or La Provence. The stunning castle view from the Allegro Restaurant at the Four Seasons Hotel is also a great experience. For seafood specialities, try Restaurant Reykjavik. Although they are not very cheap, the dishes are an amazing combination of art and taste.   
Bellevue
Stunning views of the castle and river complement the outstanding world-class, carefully crafted continental cuisine, served up in an atmosphere of formal elegance. There is also a lovely summer terrace.
Location: Smetanovo nábřeží 18, Prague 1, website
Open: Mon-Sat noon-3pm and 5.30-11pm; Sun 11am-3pm for brunch and 7-11 pm
Price range: 1000 CZK and up.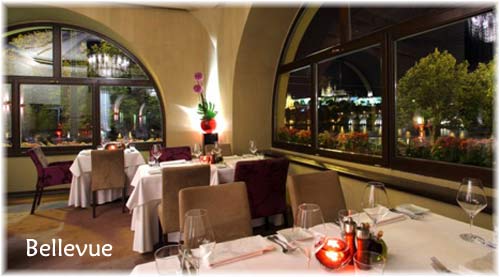 Kampa Park
Kampa Park is an excellent choice, especially in the summer when diners can eat beside the Vltava River. Superb Scandinavian seafood and seasonal specialities are among the top choices at this posh riverside restaurant. Weekday lunches offer great value and are especially popular.
Location: Na Kampě 8b, Lesser Town (Kampa Island), website
Open: daily 11.30am-11pm (bar open 11.30am-1am)
Price range: 500-1,000 CZK.
King Solomon
This is a kosher restaurant in the heart of the old Jewish quarter. Recommended are gefilte fish, chicken soup and blue carp with prunes and potatoes.
Location: Široká 8, Old Town, website
Open: Sun-Thurs 11am-11pm; Fri 11am until 90 minutes before sunset
Price range: 900-1,500 CZK.
Ginger and Fred

This offers one of the best French cuisines in Prague and is located on the top floor of one of Prague's most famous modern landmarks, 'Dancing Building'. There are amazing views of the city from both the inside dining room and the rooftop terrace. It is popular among the upwardly mobile. Recommended are red snapper à la Provençal, tournedos de boeuf with Béarnaise sauce and young rabbit in mustard sauce.
Location: Dancing Building (Taneční Dům), Rašínovo nábřeží 80, Prague 2, website Open: Mon-Fri noon-2pm and 7.30-10.30pm (no lunch on Mondays).
Price range: 700 CZK and up.
La Provence
This is a real French bistro experience. Once you get past the hubbub on the corner and upstairs, you'll find charming country dining downstairs. A silvered mirror over the oak bar and red leather booths will catch your eyes. Recommended are the many excellent salads, coq au vin rouge, vegetables au gratin and cassoulet.
Location: Štupartská 9, Old Town, website
Open: daily 8am-1am
Price range: 400-600 CZK.
U Maltézských rytířů
This restaurant housed in Gothic and Romanesque cellar dining rooms is continental, cosy and gracious. Recommended are filet mignon, venison Chateaubriand and homemade apple strudel.
Location: Prokopská 10 (off Karmelitská), Lesser Town, Open: daily 11 am-11 pm
Price range: 800-1,000 CZK.
U Modré kachničky
Suppose you like the game. Try this restaurant with its elaborate decor. Recommended are fallow deer haunch in red wine sauce, roasted rabbit with dumplings and venison in rose-hip sauce.
Location: Nebovidská 6, Lesser Town, website
Open: daily noon-4pm and 6.30pm-midnight
Price range: 700-800 CZK.
Le Terrior

Should you enjoy international cuisine, Le Terroir is a fantastic choice of venue. Situated in Prague's Old Town, only a few metres below ground in a Romance cellar vault, it will serve you food with original flavours that are beyond your wildest imagination. Specials of the day are concocted by Jan Punčochář, the chef, who'll take you through the restaurant menu himself. This menu alters each month depending on what is seasonal and fresh. This restaurant has restricted hours of opening and is open just from Tuesdays to Saturdays. Its' cellar for wine has more than eight hundred Vintages from Europe. There's, additionally, a wonderful smelling cheese shop (fromagerie).
Location: This is located at Jilská six in the Old Town; website
The Monastery Restaurant

Should you desire international cuisine with a Brazilian flavour, then your search is over. Go to Augustine's monastery restaurant in the quieter part of the Lesser Town. Apart from the food worth sampling, the (almost) black Saint Thomas Beer is brewed on-site.
The Monastery Restaurant serves European style Brasserie meals. Their menu is supplemented by frequent seasonal menus like Strawberries, Game and Asparagus. Richard Fuchs, the Executive Chef, and his staff will prepare your meals with great pride and utilize seasonal and local ingredients to improve your taste experience even further.
Brewery Bar used to be Saint Thomas Brewery's original cellar – and a well-liked social venue for local people – The Brewery Bar carries on this tradition into the present day, offering modern Saint Thomas Beers alongside speciality seasonal beverages and an array of traditional Czech tapas.
Tom's Bar can be found in a picturesque vault-barrelled hall. Tom's Bar boasts tall ceilings and outdoor seating on comfy lounge chairs on its' cloister terrace throughout the summer months.
Location: The Monastery Restaurant In The Hotel Augustine is located at Letenská twelve in the Lesser Town.