There are exchange offices on literally every corner. The cheapest option is to withdraw money from an ATM, as there's no charge or commission (except if your bank imposes a charge; some banks charge around 1.5% for using your card overseas). You can also get a cash advance at major banks and exchange offices (banks usually charge a 2% commission). Most private exchange offices in Prague charge a commission of up to 10%, and they will advertise higher exchange rates, hoping customers will not realise there is a high commission fee. Some exchange offices advertising 'No Commission' are also a poor place to change money, and the no-commission policy only applies if you're changing large amounts of money. You can negotiate commission at any exchange office. Generally, it depends on the amount you are exchanging, and staff are willing to lower commission down to 3% (if you not lucky enough to be rich, always ask for a commission reduction; it really works). Bureaux de change are probably the most useful places if you need money at the weekend or outside of normal business hours – otherwise, we do not recommend them. Hotels, souvenirs shops and some restaurants usually charge around 5% to 6% commission. And a last piece of advice: never change money on the street. There have been several cases where customers have received counterfeit notes.
Money Exchange Tips
Before exchanging money, carefully read all the information on the exchange rate list and the service price list.
If there is anything unclear about the exchange rate or the fee, enquire about the final amount you will receive in the transaction. The bureau de change is obliged to provide you with such information in a suitable manner.
When paying with larger banknotes, especially when it's dark, and you might be thought of as drunk, it's a good idea to make sure all change received is really in Czech crowns.
Opening Hours
Banks open from 8 am-4 pm, but many close their exchange facilities at lunchtime. Bureaux de change has much more flexible hours, often open until 10 pm.
Approximate Exchange Rate
1 EUR = 24,00 CZK; 1 USD = 18 CZK; 1 GBP = 28 CZK; currency.fin.cz
Best Exchange Office in Prague?
If you're looking for the best exchange rates without any commission, a few companies offer the really 'best possible rates'; one of them is a company at www.exchange.cz. They are located at Kaprova 13 (very close to Old Town Square). If you are exchanging a large amount, they even give you a special VIP rate.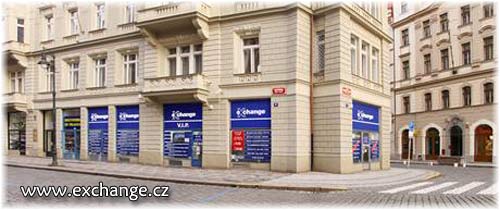 Czech Currency
The monetary unit of the Czech Republic is the Koruna česká (Kč) – or Czech crown – which is divided into 100 hellers. There are heller coins. Coins are only in nominations of 1, 2, 5, 10, 20 and 50 crowns. Banknotes come in 100, 200, 500, 1,000 and 5,000 crowns.
The Czech Republic is a member of the EU but will only enter the Euro Zone around 2013. 
Currencies Accepted
The official currency is Ceska koruna (Czech crown). Most stores (also small ones) and shops accept credit and debit cards. Selected department stores and restaurants will accept Euros, but the exchange rate will not be too good.
Exchange Money Scams
It makes no sense to change money on the streets, and you're probably going to get ripped off or get fake notes etc. Prague is known for its beauty, and unfortunately, its petty crime. On Tuesday, I was rushing down Wenceslas Square as I do every day, and as I was about to descend a staircase into the subway system, I turned around to see a man handing another a wad of cash and the tourist saying a gracious "thank-you." It happened right in front of my eyes: an illegal money exchange made on the edge of Wenceslas Square. 
Export and Import of Czech Currency
The export and import of valid Czech currency are permitted without authorization from the Czech National Bank to the amount of CZK 350.000. There are no restrictions on the export and import of foreign currency.
Banking in Prague
Banks in Prague can be found by visiting the website of the Czech National Bank, while a popular local bank is Ceska Sporitelna (which has an "Expat Center" at Rytyrska 29) and Komercní banka.