A few minutes' walk from Loreto Square is Strahov Monastery (Strahovský klášter). The monastery, which became known as the Strahov monastery, was not much of a success until 1143 when a group of Premonstratensians settled here. The Premonstratensians are a Roman Catholic order of canons founded in 1120 by St. Norbert. They are also known as the Norbertians or White Canons. During communist times, the monastery was closed, and many monks were imprisoned. Later after the communist regime collapsed, they returned here in 1990.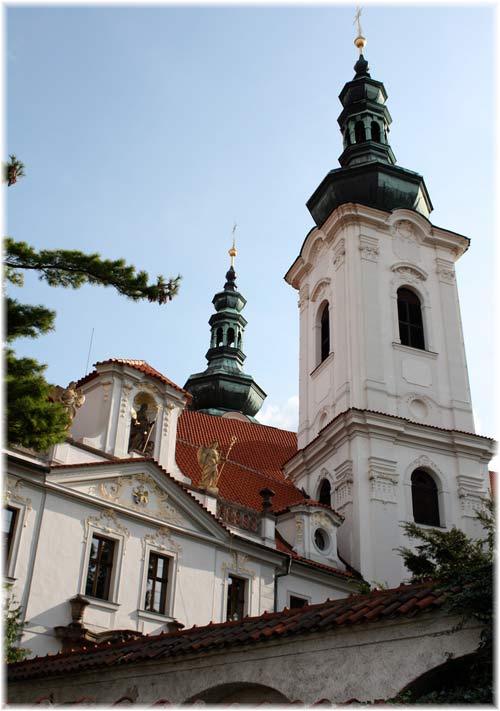 The monastery area includes the Church of St. Roch, Church of Our Lady of Ascension, where Mozart is said to have played the organ in 1787, Strahov Picture Gallery and the unique Strahov Library. The magnificent library is located in large halls and decorated with Baroque ceiling frescos. It is the largest monastic library in the country with two baroque halls and is more than 800 years old. The library contains more than 130,000 volumes, including 2,500 books published before 1500 and 3,000 manuscripts. The oldest book is the 9th-century Strahov Gospel. Other works include those of famous painters such as Christoffel Plantin from Antwerp. A two-storey high Philosophy Hall is dating from 1780, and its entire ceiling is covered with a delightful composition entitled The Spiritual Development of Mankind by Franz Maulbertsch. The lobby outside the hall contains a Cabinet of Curiosities, which you simply must-see. This corridor takes you to Theology Hall (with a curved ceiling encrusted in Baroque stucco work) dating from 1679, built by Giovanni Orsi. Theology Hall has walls lined with elaborately carved bookcases stacked with precious volumes and manuscripts. There is also the Miniature Museum where you can write your name on a grain of rice. Once you get here, you will also appreciate the best city views 'from the foot of the Strahov Monastery'.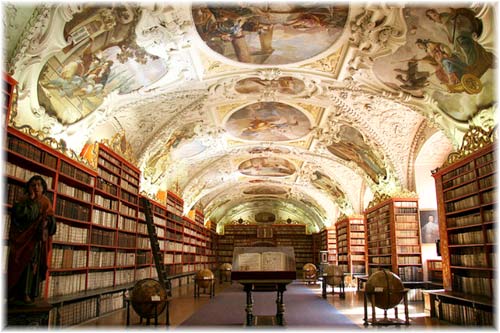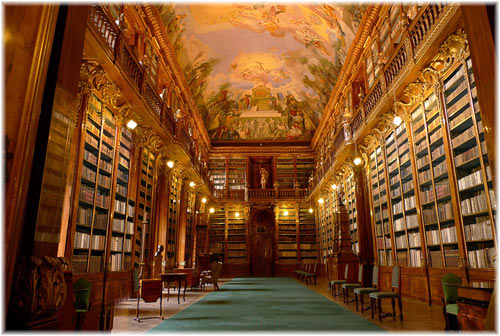 Klášterní Pivovar Strahov
Strahov Monastery allowed a commercial brewery, Klášterní Pivovar Strahov, to set up shop within its precincts. Even though the monks have nothing to do with the brewing process, beers here are named after St. Norbert. It is a very dark brown beer and far more bitter than you would expect. (read more)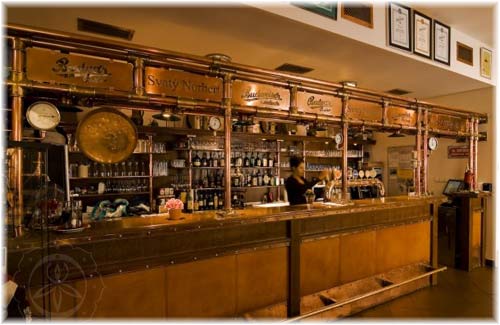 Admission
Miniature Museum – admission 50 CZK, open from 10 am-5 pm
Strahov Library – admission is 70 CZK, open daily except for Mondays 9 am-12 pm and from 1-5 pm (last admission 30 minutes before closing)
Strahov Picture Gallery – admission 50 CZK, opens same times as library.
There is also a Museum of Czech Literature, though interesting assorted manuscripts and temporary exhibitions don't make a lot of sense unless you can read Czech.
Petrin to Strahov – a walk with great views
Take a funicular railway up to Prague's best picnic spot, Petřín Hill, which is also very popular with joggers, dog-walkers, lovers and families. From here, you have magnificent vistas across the 'city of 100 spires', and the panorama gets better as you follow the trail down and around to Strahov Monastery.
Ambling from Petřín to Strahov, you follow an arc above the city until its bridges line up, crossing the Vltava River. Follow the upper dirt path or climb the wooden steps from the paved lower path to the semicircular lookout point behind the monastery, where the view is one of the best in Prague.
At the monastery complex, the stunning Strahov Library and the quirky Miniatures Museum await. If you still have energy left, you can continue your walk to the castle.
More from history
After Premonstratensians settled here, the monastery soon started to prosper, and in a short timeframe, it became a centre of intellectual and spiritual life. By the end of the 12th century, most original wooden buildings were replaced by stone Romanesque buildings. The monastery was rebuilt in gothic style after a fire destroyed the complex in 1258. It continued to prosper until 1420 when Hussites plundered it. The monastery started to decline until the end of the 16th century when most of the buildings were repaired. It was plundered and sacked again during the 30 years of war (1618-1648). In the late 17th and early 18th Strahov Library was expanded, this time in Baroque style. After a bombardment by the French army in 1742, most medieval gothic buildings were rebuilt in baroque style.