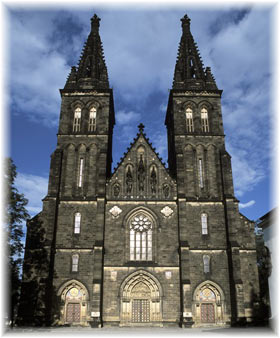 Once he began to construct his seat in Vyšehrad facing Prague's Castle, Vratislaus, the second from Bohemia, founded the original parish church and chapter as soon as the second half of the eleventh century based on the design of Saint Paul and Peter's Rome Church. Legend has it that the Vratislaus Duke himself carried twelve baskets of rocks on his shoulders to the building site. As part of his quest to gain self-sufficiency, he founded a chapter that wasn't answerable to Prague's bishop and reported straight to Rome's Pope. This independence remained till 1763.
The final construction task was finished in 1903, which accounts for the present look of this church. This church has undergone lots of reconstruction stages during its' history of nine hundred years: From the initial Roman basilica of the eleventh century, Grand Gothic designs throughout the rule of Charles the fourth and Baroque renovations in the 1720s (modelled on the ideas of Giovanni Santini), to the Neo-Gothic rebuilding task begun in 1885 by the building designer Josef Mocker. High Gothic style Revival structures were put on the façade from 1902 to 1903.
The church's inside is lavishly adorned with decorative and metaphorical murals in the Art Nouveau style. On the right-hand side of the 3rd Chapel's altar is a rarely seen panel displaying Our Lady of the Rain, a great picture of the Gothic Bohemian painting from the mid-fourteenth century from Charles the fourth and Rudolph the second's collections. Given to the clergy in 1606 by Ondřej Hennevald, the legend is that Saint Luke himself painted this picture.
During times of water shortages, people would come to this painting praying for some rain. Inside the 1st chapel, there's a Roman tomb of stone from the twelfth century on the right side. It was initially credited to St Longinus; actually, it's believed to be a tomb of a Premyslid dynasty member. The first Roman crypt was constructed as a church for burying the 1st Bohemian king, Vratislaus the second, its founder and the 1st to be laid to rest there in 1092. The crypts of several royal dynasty members are, additionally, found inside the church. This church is part of the Roman Catholic Churches.
This is located at Štulcova in Vysehrad. It opens from Tuesday to Thursday and on Saturdays from 09:00 to 12:00 and from 13:00 to 17:00. On Fridays, it opens from 09:00 to 12:00, and on Sunday, it opens from 11:00 to 12:00 and from 13:00 to 17:00. In effect, the shorter opening times are throughout the winter.