There are more than 40 theatres in Prague. Apart from big theatres with a classical repertoire, there are smallish theatres – these came into existence mostly in the sixties of the last century to criticize the totalitarian regime, and they have been playing the role of critics and innovators ever since. There are also several new experimental theatres in Prague, such as the Black Theatre or the Pantomime Theatre.
One of the most popular theatres amongst visitors in Prague is the 'black light theatre' (visual trickery created by 'invisible' actors dressed in black). It is hybrid of mime, puppetry and drama. Another popular theatre is puppetry and marionette, suitable for both children and adult (Czech performances are some of the best in the world with legendary Spejbl & Hurvinek from Josef Skupa).
There are several English theatres in Prague but most performances are unfortunately in Czech. Prices for tickets are around 400 CZK. Usually you can get them from the box office or from ticket agencies such a Ticketpro. They have offices all over the city.  
The National Theatre
The most fabulous of all Czech theatres is The National Theatre in Prague that became the symbol of the Czech national revival period. Financial means for its construction had been raised through a nation-wide public collection. Building works began in 1868 according to the plans of architect J. Zitek. However, in 1881, just as its construction was finally nearing to its end, the theatre burnt out. The reconstruction took two years and on November 18, 1883 the National Theatre was inaugurated with the Czech opera Libuše composed by Bedřich Smetana. Decoration of both exterior and interior is a work of leading Czech artists M. Aleš, F. Ženišek, V. Hynais, J.V. Myslbek and others.
Nowadays, the National Theatre consists of three art ensembles – opera, ballet and drama – which perform at three places: in the original building of The National Theatre, in The Estates Theatre and in The Kolowrat Theatre.  Box-office: Mon – Sun 10:00 – 18:00  www.narodni-divadlo.cz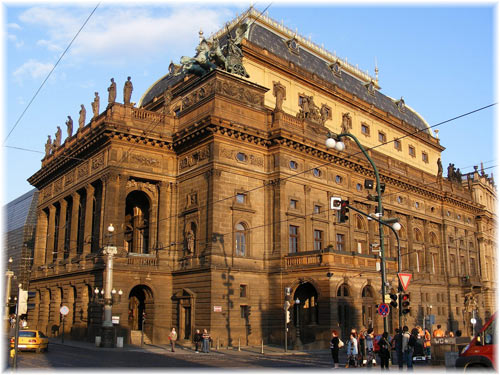 Laterna Magika
Multimedia show with dance, opera and music, tickets 690 CZK, Address: Nardoni trida 4, Prague 1. (read more)
Cinoherni Klub 
Czech language modern drama, around 200 CZK, Address: Ve smeckach 26 www.cinoherniklub.cz 
Krizkova Fontana Water and Light Show in Prague

Do not miss in Prague open air music theatre Křižík Fountain. The fascinating water and light show accompanied by music and dancing is an unforgettable experience. Address: Prague 7 – Holešovice, Exhibition Ground. (read more) 
National Black Light Theatre
Fantasy Travellers – Gulliver and Alice in Wonderland. Gulliver won the prize for the Best Fantasy performance at the 52nd World Theatre Festival in Edinburgh. Theatre is represented by Columbia Artistic Management. www.cernedivadlo.cz
Archa Theater
Archa is an internationally renowned performance space that hosts some of the best concerts and performances in Prague, from American indie bands Wilco and MGMT to the provocative Belgian dance company Ultima Vez. Archa's space is small enough to be intimate, large enough for crowds and versatile enough to hold a variety of acts in every imaginable genre. Address: Na Poříčí 26, Prague 1-New Town; website.
Divadlo Minor

Vodickova 6, New Town – children's theatre offering mix of puppets and panthomime. www.minor.cz  
Music Theatre Karlin

The music theatre offers comedies with songs, operettas, musicals. (read more) 
Divadlo na Vinohradech

Czech language ballet and drama, Address: Namesti Miru 7, Vinohrady. website

Divadlo na Zabradli
(Theatre on the Balustrade) Anenske nam. 5, Old Town – Czech drama where former Czech president Vaclav Havel honed his skills as playwright a few decades ago. www.nazabradli.cz 
Divadlo Spejbla a Hurvinka

Famous puppeteer Josef Skupa created in 1930 characters Spejbl & Hurvinek. Theatre mainly for children. Address: Dejvicka 38, Prague 6. www.spejbl-hurvinek.cz 
Divadlo v Celetne

Performances of Czech drama and some foreign plays but only in Czech language. Location: Celetna 17, Old Town. www.divadlovceletne.cz

Kolowrat Theatre
In close vicinity of the National Theatre there is the New Stage that was the home stage of the multimedia theatre LATERNA MAGICA. Performances of this theatre skilfully combine film with ballet and take spectators to the world of imagination and dreams.  Location: Prague 1, Národní 4. Box-office and ticket reservations: Mon – Sat 10:00 – 20:00.
Prague State Opera
Operas are usually performed in original language. Address: Prague 1, Wilsonova 4; Box-office and ticket reservations: Mon – Sat 10:00 – 20:00. (read more) 
Divadlo Palace
Black Light Theatre. Visitors of Prague have new possibility how to spend free evening within Prague holidays. At the Wenceslas Square (Arcade Jalta) you can find brand new, completely reconstructed black-light theatre called Divadlo Palace, performing a play called The Colour Dreams of Dr. Frankenstein. The horror story was transformed into amusing story about a mad scientist trying to fulfil his dream of creating an artificial human being. The performance uses tricks of black-light theatre and furthermore 3D technology. Thanks to modern technologies, the audience fall into the middle of the action, performer appears above heads of the audience. All these tricks make the performance unforgettable. Among Place Theatre performers you can find a break dance world champion, artist from the Moscow Cirk and many other outstanding personalities. Convenient central location of the theatre ensures easy access.  Location: Venceslas Sq. 43, Praha 1. website  
ImageTheatre

Black Theatre, Pantomime & Modern Dance, tickets 400 CZK. (read more) 
Svanadovo Theatre

Selected performances with EN subtitles. www.svandovodivadlo.cz 
Reduta Theatre

Theatre of Jiri Srnec, founder of Prague's original black light theatre, tickets from 370 CZK, website
Ta Fantastika

Black light theatre, tickets from 350 CZK (read more) 
Divadlo Metro

Black theatre of Frantisek Kratochvil, tickets around 440 CZK. www.divadlometro.cz 
Black light theatre Wow Show
This exiting show presents new attractions and it is performed interactively with the audience. For example, in one of the scenes six giant fluorescent balls descend from the ceiling and the cheering audience pushes and rolls them from side to side. www.wow-show.com 
Divadlo Broadway

Address: Na Porici 31, Praha 1, website