The Vltava River is, without doubt, an outstanding place from which to admire the beauty of Prague.

Prague River Cruise PPS (The Prague Steamship Company) and EVD (Evropska Vodni Doprava) are major operators providing boats and river cruises in Prague. They run regular boats on the Vltava River during the summer months from April to September. The most frequent trips run to Trója, a northern Prague suburb, and some even go as far as Lake Slapy. Taking a boat up to the Troja and visiting Troja Place or Troja Zoo, and going back by alternative transport (usually by bus) can be a great trip. There are numerous tourist river cruises in the high season from April to October and a more limited number of cruises during winter on heated boats. Cruises including dinner, lunch and music and other entertainment are entirely aimed at the tourist. Cruises cost from 220 CZK up to 1000 CZK, depending on the type and duration of the cruise. Special cruises are usually organized during Christmas and on New Year's Eve (and are generally more expensive – around 3000 CZK for a New Year's Eve 5-hr cruise). Lunch and dinner cruises, and some others, usually do not include a guide, so don't expect someone to explain Prague history or provide a commentary during the cruise. However, some travel agents can organize special packages with a tour guide (usually much pricier at around 1100 CZK). The minimum cruise duration is one hour, and you should expect to pay around 220 CZK for such a short cruise. The cruise boats come in different sizes, and it is even possible to organize private cruises featuring onboard shows or exhibitions. Besides major cruise operators, you can find many other small boat companies running their boats in summer.
The last thing to keep in mind is that cruises in Prague are delightful but should not be compared to expensive, luxury cruises in Paris. It is always good to book a river cruise in advance as there are limited seats available.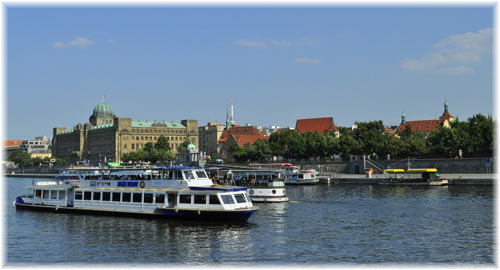 Tip: Spend enjoyable night in Prague –  Dinner on the River, 3hrs cruise.
A few radio stations operate summer parties and disco boats for younger people and teenagers, and anyone else who wants to go. They are popular in summer, with live DJ shows. The entrance fee is around 100 CZK. The journey takes around 4 to 5 hours, starting around 19:00 and finishing around midnight.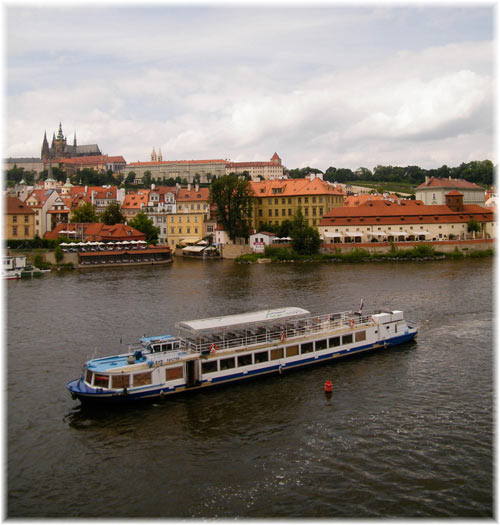 Major Cruise Operators
Evropska Vodani Doprava (EVD)
Phone: +420 – 224 810 030
Departing quay: Čechův most, Old Town, getting there by tram 17
Description: large cruise boats based at the quay beside Čechův most (Bohemia Bridge), all cruises run year-round.
Pražská paroplavební společnost, (PPS)
Departing quay: Rašínovo nábřeží 2, New Town; metro Karlovo Náměstí
Description: From April to October PPS runs cruises along the Vltava
o2 Žluté lázně – Take a ride in a rowboat, paddle boat, canoe or motor boat. Rowboats, paddle boats, canoes: 100-150 CZK; Motor boat: 200 CZK for 30 minutes. Getting there: by tram 3, 16, 17, 21 to the Dvorce – žluté lázně stop or by bus 118, 124 to the Dvorce stop.
Žofín and Střelecký Ostrov – Rent a boat in the centre of the city near National Theatre on Slovansky or Strelecky Ostrov.
See also: Prague Venice boat cruises.
A bit of good advice: Everyone tells you not to trust the Czech taxi drivers especially to and from the Airport. Simple solution book and prepay your taxis through Prague-Airport-Transfers.co.uk.