The face sides of banknotes have portraits of famous personalities from Czech history.
• Currency: Czech Crown 1 CZK, 100 heller
• Coins: 1 CZK, 2 CZK, 5 CZK, 10 CZK, 20 CZK, 50 CZK
• Banknotes: 50 CZK, 100 CZK, 200 CZK, 500 CZK, 1 000 CZK, 2 000 CZK, 5 000 CZK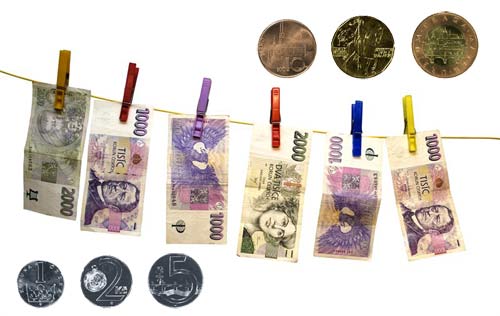 20 CZK — Přemysl Otakar I (1155/77-1230)
In 1198 this ruler of the Premysl family received his inherited King's title. In 1212 the rights of the Bohemian Kingdom were confirmed (the Golden Bull of Sicily). This banknote has been withdrawn from circulation and is no longer legal tender!

50 CZK — St. Agnes of Bohemia (1211-1282)
She was a Přemysl family princess who was canonized in 1989. She founded cloisters and devoted herself to charity. She is the founder of the sole Bohemian order of knights — Crusaders of the Red Star.

100 CZK — Charles IV of Luxembourg (1316-1378)
He was King of Bohemia and Germany and from 7355 Emperor of the Holy Roman Empire. A prominent and active European ruler in the late Middle Ages.

200 CZK — Jan Amos Komenský (1592-1670)
Thinker, pedagogue, theologian, writer and historian. In 1628, he had to emigrate from the country.

500 CZK — Božena Němcová (1820-1862)
She is considered to be the most prominent Bohemian writer. She is the author of small prose works with patriotic and social themes.

1000 CZK — František Palacký (1798-1876)
Scientist and historian recorded national history—an important figure in Bohemian cultural and political life.

2 000 CZK — Ema Destinnová (1878-1930)
An opera singer who sang in Berlin and the Metropolitan Opera in New York.

5 000 CZK — Tomáš Garrigue Masaryk (1850-1937)
The founder and first president of independent Czechoslovakia (from 1918). Philosopher, statesman, and sociologist.