Palac Akropolis is a multifunctional building containing a music club, a theatre, an information centre (where you can access the internet free of charge), a radio headquarters and a restaurant. Not exactly centrally located but not far from the centre either. It lies between Zizkov and Vinohrady districts.
The building itself has a long history – it was built in the early times of the independent Czech Republic in the first quarter of the 20th century, and it served primarily as a cinema. A decade later, it was transformed into a theatre. It changed hands often, but it always served cultural purposes, which has survived to the present times.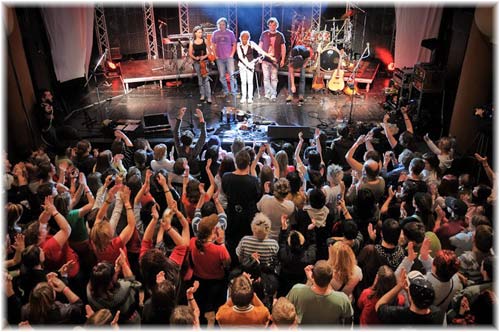 Palac Akropolis is a space of young artists from all around the world – it is multifunctional and multicultural. There are people there from all corners of the world all the time.
Near the first stairs in the foyer, you can always find a weird gallery of mad artists, so do not miss it. Upstairs is a day café/bar and cloakroom, and in the underground level, which is divided by that gallery, are three stages. First is a Divadelni bar (Theatre Bar); the second is called 'Mala scena' (Small Stage), and the third stage is the largest – behind the door near the main stairs – the so-called Hlavní scena (Main Stage).
The Main Stage serves for real stars only and as a theatre. Great bands have had shows there; Apocalyptica, Apollo 440, Natacha Atlas, Boban Markovic Orkestar, Dead Kennedys, Megadeth, Sigur Ros and The Strokes, to name just a few.
The Small Stage often resonates with the sound of reggae, dub, dance hall and jungle music; sometimes, DJs play experimental music full of breaks or without so-called stars of Prague's DJ underground, Raveboy, Yukimura or Deus Ex Machina.
Drink prices are quite reasonable, which is why the place is often filled with too many locals, especially on Friday or Saturday nights.
Address: Kubelikova 1548/27, Prague 3
Phone: +420 296 330 911
Website: www.palacakropolis.cz