While the Czech lands have long been home to famous spas, which can be found in the beautiful city of Karlovy Vary, Prague itself had to wait for spas to arrive in the city itself. However, these have now been provided by several five-star hotels, and some of these spas are set in historic buildings, including those in a Renaissance chapel and a Gothic cellar. The treatments on offer include facials from Darphin and Juvena, while there is a large range of massages to choose from, including the new phenomenon of Thai massages. If you are more interested in acquiring some products to use yourself at home, visit Botanicus for organic soaps, lotions and oils.
Ecsotica Spa, Alchymist Grand Hotel, Tržiště 19; tel: 257 286 011; www.alchymisthotel.com; daily 9am-9pm; tram: 12, 20, 22, 23.
This is a quiet, beautifully decorated little spa set in a Gothic cellar in Lesser Town. Aside from the lovely pool, there are massages, baths, manicures and pedicures, as well as a good range of Darphin facial treatments.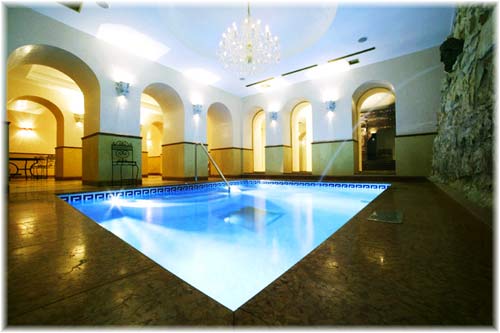 Lily Wellness and Spa Hotel Hoffmeister, Pod bruskou 7; tel: 724 360 252; www.hoffmeister.cz; book ahead for timings; metro: Malostranská;
One of the best spas in the city is found in this small luxury boutique hotel. There is a full list of treatments, ranging from massages (including ones with chocolate and honey), Juvena facials and wraps. Perhaps the best and most relaxing treatment here is the stone bath: baking-hot volcanic stones are used to create a steam bath in a cave underneath the hotel.
Sabai, Slovanský dům, Na Příkopě 22; tel: 221 451 180; www.sabai.cz; daily 10am-10pm; metro: Můstek.
This wellness centre specialises in Thai massages, including aromatherapy treatments, massages based on Ayurveda and even special massages if you are pregnant. The foot Thai massages are excellent after a long day of sightseeing.
The Spa Mandarin Oriental, Nebovidská 1; tel: 233 088 880; www.mandarinoriental.com; daily 10am-10pm; tram: 12, 22.
Claimed to be 'the only spa in the world located in a former Renaissance chapel', this is one of the best places in the country to regain your energy. Many of the products are wholly natural, provided by Aromatherapy Associates. The spa area itself is large and very relaxing, with many private treatment rooms and suites, all decorated in a restrained modern style.
Zen City Spa, Maximilian Hotel, Haštalská 14; tel: 225 303 116; www.planetzen.cz; daily 10am-10pm; metro: Náměstí Republiky.
The first spa in the city to offer traditional Asian therapies. The beauticians are all highly trained, and the treatments include Thai massages with exotic oils.