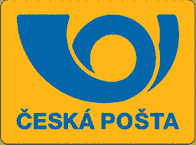 Post offices use distinctive orange Pošta signs. Most post offices are open from 8 am until 6 pm. On Saturdays, they will close at noon. Prague's main post office is located just close to Wenceslas Sq. (Jindřišská 14, New Town). This 24-hour post office is located at Hybernská 15, close to Masaryko nádraží. The main post office, however, does not expect to operate in the English language. There are also several branches in the city centre open from 8 am to 7 pm (noon on Saturday) and are closed on Sunday. Postcards and letters weighing up to 20g are being sent to Europe, cost 20 CZK, or to anywhere else 21 CZK. If you need to receive letters and parcels you can arrange poste-restante mail at the main post office. If you are an AMEX customer, they can hold letters for you. Another option is to rent a post box; this costs around 100 CZK to 200 CZK a month. You must have your passport to a set up this service. If you wish to send mail or postcards, you can buy stamps at many newsagents, bookshops, street vendors and post offices—Czech post website.
Postage in the Czech Republic
Ordinary letter up to 20 g / postcard: 13 CZK.
The Czech Post Office has the exclusive right to operate the service for post up to 50g in weight. If you need to send anything heavier, you can choose from tens of Czech and international couriers operating in the Czech Republic.
All international courier services like DHL, FedEx or UPS are available. To send a small printed package within the EU would cost around 1600 CZK for next-day delivery. International courier post can be tracked online.
Prague Couriers
Major courier services, such as FedEx, DHL, UPS and so on, have offices in Prague. Note that the cost of sending packages through them is quite expensive, usually more than in many other EU countries.
Prague Post Code
Prague is divided into 10 city districts, and every city district is divided into several sub-districts. The Postal code for Prague 1 is 110 00, for Prague 2 is 120 00 as so on.
Correct Address
A normal item of post sent within the Czech Republic must bear the name of the receiver and his or her address (street, house number, town and postcode). Items to be sent abroad must also have the name of the country clearly stated. The address must be written in the Latin script unless another script is used in the place the item is being sent. In that case, only the name of the country must be written in Latin script.