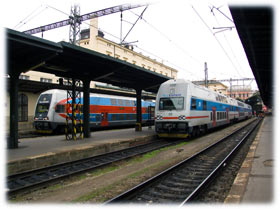 International Rail passes represent good value if you plan to travel widely in Europe. The following special tickets and rail passes may be of value, but if you are going to travel solo in the Czech Republic, buying individual tickets will definitely be cheaper. You can purchase rail passes from most travel agents or at www.raileurope.com.
There are also Czech-issued passes, for which offers vary, and prices frequently change. Some passes allow unrestricted 2nd-class train travel in the Czech Republic for a specific time period. Calculate to see whether they will save you any money; it may be cheaper to buy local tickets for travelling around or buy an InCard (holders of this discount card are eligible for cheaper fares).
European East Pass
Available only to those who are not citizens or residents of Europe, Morocco, Turkey, or the former Soviet Union countries. The pass provides unlimited travel in the Czech and Slovak Republics, Austria, Hungary and Poland for five days within a month. Pass for 2nd-class travel for an adult costs US$244. Each extra day costs an additional US$29.
Eurail Passes
Similar to the European East Pass, the Eurail pass is not for residents of Europe. Eurail offers a five-day Select Pass that allows you to choose travel for any five days or 10 days over two months, covering three to five neighbouring countries. There is also a Global Pass (good for 22 countries) and regional passes (including the Czech Republic). www.eurail.com
InterRail Pass
Available to anyone who has lived in Europe for at least six months, the Global Pass from InterRail gives travellers unlimited, 2nd-class travel for one month in 30 countries, including the Czech Republic. There is also a Flexi Pass available for 10 days of travel, which is cheaper.