Traditional meals in the Czech Republic are wholesome and designed to feed people up well after a tough day's work of manual labour.  They are quite high in fat content and usually very substantial, which is perfect during the winter months. Recently, there has been a trend of eating lighter meals containing a greater quantity of vegetables. The standard fatty and heavy Czech foods are often not consumed every day now, and many people omit these meals completely.  Nonetheless, there's no food that compliments fantastic Czech beer as well as good quality, traditional Czech food like duck, goose and knedlíky (i.e. dumplings), sauerkraut and pork.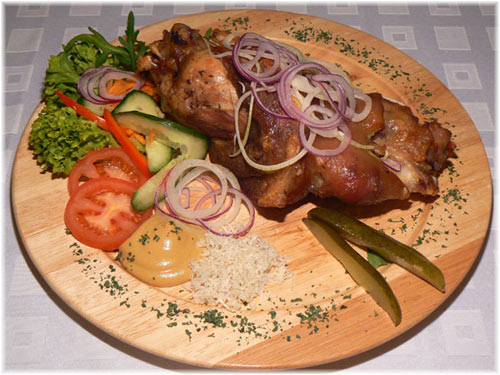 A traditional Czech main dish of the day (normally lunch) is composed of 2 to 3 courses.  The first course is a warm soup (called polévka).  The second course is the main part, which is frequently meat-based, and the side dish is served on this same plate.  The 3rd, the non-compulsory course, is either a sweet snack (and tea or coffee) or a compact vegetable salad or dish like this.
Czech food encompasses lots of varied types of soups (called polévka).  The more popular soups are hovězí vývar – which is a transparent beef-based soup (occasionally s játrovými knedlíčky – and dumplings made from the liver), zelňačka – which is a sour and viscous soup made from cabbage, bramboračka – which is a soup made from potato (and often with mushrooms from the forest), gulášovka – which is a viscous goulash style soup, kulajda – which is a substantial soup made with milk and mushrooms from the forest, česnečka – which is a powerful soup made from garlic and very tasty and healthy (but don't eat this just before you kiss someone!), čočková polévka which is made with lentils, hrášková polévka which is made from young peas, rajská polévka which is a tomato soup, fazolačka which is made with beans and many more.  A specialised soup, which is certainly not for everyone, is dršťková polévka which is made with a cow's stomach.  Rybí polévka is a vicious fish soup made with carps, including the innards, sperm, roe and the head.  This is a soup traditionally eaten at Christmas.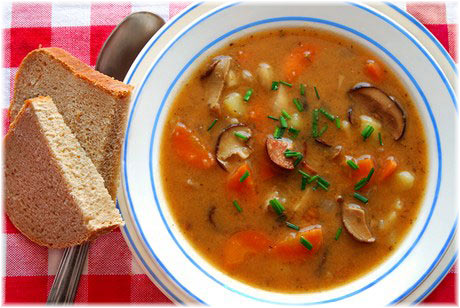 Some soups are eaten with tiny croutons placed into the soup before consumption, and some are just eaten with bread.  Soup is sometimes also only consumed as the main dish, particularly for smaller dinners.
The main course (called 'hlavní jídlo') of a dinner is traditionally the renowned fatty and heavy part.  Frequently this is pork-based, but it can also be based on chicken, beef, duck and other meats.  A vital aspect of many main courses are the side dishes (the main course and the side dish get served on the same plate) – normally baked or cooked potatoes, rice, pasta, fries or knedlíky, which is the most popular Czech side-dish.
Knedlíky (often called dumplings) comes in lots of different types.  Many types are utilized as side dishes, although some types with fillings are utilized as dishes on their own.  The most popular kind, utilized as a side dish all the time, is houskové knedlíky (i.e. bread dumplings).  These are cylindrically shaped for cooking, then sliced into circular pieces around eight centimetres in diameter and look quite similar to normal white bread.  Houskové knedlíky is served alongside Czech traditional foods like Guláš, which is like Hungarian goulash with a less spicy and thinner sauce; Svíčková na smetaně which is a sirloin steak with a creamy sauce made from root vegetables (celeriac, carrot and parsnip) served alongside a table-spoon of cranberry, whipped cream and an orange slice; Vepřová pečeně se zelím a knedlíkem named locally as Vepřo-knedlo-zelo, which is a combination of knedlíky, sauerkraut and roasted pork.  This dish goes perfectly with the world-renown Czech beers, the main brands being Gambrinus, Pilsner Urquell, Budvar, Krušovice Staropramen and Velkopopovický Kozel.  Should you be fortunate enough to find a public house offering Svijany, you should certainly buy it, as it is thought to be among the tastiest brands in the world.
Another popular type is bramborové knedlíky (i.e. potato dumplings), which has smaller slices, is always offered as a side dish and has a distinctive yellow colour.  A normal combination would be bramborové knedlíky with spinach and roasted lamb or pork, bramborové knedlíky with sauerkraut and duck, or a combination of bramborové and houskové knedlíky.  Less frequently seen is chlupaté knedlíky (literally meaning 'hairy dumplings', although there aren't actually any hairs, so don't worry!), which aren't cut up but are, instead, cooked in a ball shape.  These are also normally served alongside either spinach, sauerkraut or roasted meat.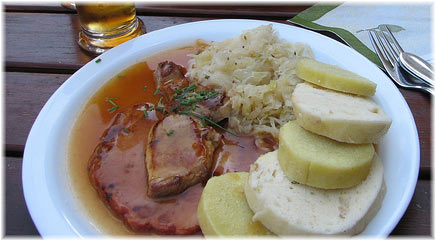 Other Czech meals are: Pečená kachna, roasted duck once more, served alongside potato or bread dumplings and white and red sauerkraut; moravský vrabec, often called 'Moravian Sparrow', but this is actually pork baked in onions and garlic; smažený kapr, which is a breaded carp fried and served alongside a rich salad of potatoes and consumed at Christmas time; pečené vepřové koleno, which is a roasted pork knee, served alongside fresh horseradish and mustard; bramborák, which is a garlic-based potato pancake; smažený sýr, which is a deep-fried breaded Edam cheese (the most liked cheese in all of the Czech Republic) served alongside french fries or boiled potatoes and tartar sauce; párek v rohlíku, which is a thin, long hot dog with a crusty roll and ketchup or mustard.  If you want, you could also always get hranolky – which are chips.  And, not to mention the ever-present zelí (i.e. raw cabbage), which is included with everything.  Game is another appealing option, which consists of foods like wild boar, bažant, kančí, jelení (or daňčí), both types of venison and pheasant.  These are frequently served as guláš or alongside red and white cabbage and dumplings.
You will not get a huge choice of zelenina (i.e. vegetables) unless you are in rural areas – tomatoes, cabbage, and peppers are the most popular types of side dish, usually served in a small but tasty garnish.
Visitors may also be surprised to find 'American Potatoes' on many menus.  In fact, these are spiced potato wedges.