Beer Is the Essence of Any Czech Culinary Attitude
As you would have thought, you may find more than 800 pubs in Prague to choose from, and a few of them have existed for centuries. Unfortunately, a genuine Czech pub culture has developed drastically during the last decade. Some historic pubs are now a waste of time, having forced out local drinkers with inflated prices. It means that a lot more attention has to be paid to selecting places to visit if you want to avoid the unpleasant experience of paying four times as much as is necessary. Whereas before all pubs charged pretty much exactly the same prices, there are now important differences. The successful tourism industry causes it as foreigners are happy to pay prices which, although still cheap by western European standards, are much higher than those normally charged in the country.
Tip: Take a guided tour and visit the most famous Prague Pubs, great value too!
A few years ago, the Czechs liked to drink and were the biggest drinking nation in the world.
So when you want to spend all night drinking, you have plenty of choices of where to go. Czech pubs serve traditional Czech meals and snacks. Beer comes in half-litre jars and is usually quite cheap. However, price should not be the only reason for considering visiting pubs. You will also have a chance to experience the Czech pub atmosphere, which is so different when compared to that of English pubs. Popular beer snacks are 'utopenci' (sliced sausage pickled in vinegar with onions) and 'topinky' (fired toasted bread). Some pubs serve snacks such as the famous Prague ham with gherkins. Most pubs may close a little bit early, especially on weekdays, at around 11 pm, which allows you to visit many clubs or bars. Bars are usually open until early morning. Drinking at clubs is more expensive than in pubs; generally, you should expect to pay double the price and possibly an entrance fee. Some famous pubs are very popular with overseas visitors so that you may meet a few of your country folk. It is worth remembering that smoking is permitted in all pubs, but some pubs have smoking and non-smoking sections. Pubs in Prague are safe, and violence is very uncommon. In the summertime, beer gardens are very popular with tourists and locals. Enjoying your chilled glass of premium Czech beer with an awesome view over the city is… do it!
Tip: Prague has its own selection of Irish pubs, and they are also worth visiting. Another alternative is wine bars; they are generally a bit more expensive by Czech standards, but definitely worth trying, especially in September for young wine called 'burčák'.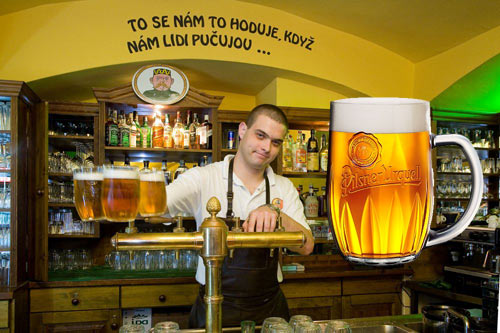 Running Tabs
If you intend to spend a lot of time in one pub, then consider running a tab. Normal rules apply, i.e. if you order food, you can have a tab (credit) to order more drinks and pay later. The only issue here is that if waiters/waitresses are changing shift, then you have to settle that part of the tab or finish it. But be careful – the more the bill goes up, the more are the chances of extra unrecognised charges being included. Almost all the bars and pubs in the city centre are used to running tabs for individuals and stag groups.
Bars
Bugsy's Cocktail Bar
One of the best bars in the city is Bugsy's Cocktail Bar. This is a more upscale establishment that is perfect for couples or small groups to enjoy a relaxing evening or have a few drinks before dinner.  Located just off Old Town Square on Parizska, Bugsy's has a classic 1950s American theme with waiters in bow ties.  You won't be disappointed in the drink selection or the mixing at Bugsy's.  The staff has won more bartending awards than any other bar in the country, and with over 200 spirits to choose from, there is certain to be something to match your tastes.  Included are 120 types of single malt whiskey, 90 rums, ultra-premium vodka and fine champagne. Hours: Daily from 7:00pm until 2:00am
O'Che's Bar
There is no wonder why this pub is so popular with a great location between the Old Town and Charles Bridge.  Interestingly, it is not a traditional Irish pub but is a mix between Irish and Cuban.  As a result, O'Che's brings in a wide array of clientele who come for the sports and the cocktails and beers.  O'Che also has an impressive number of beers on tap, including Cambrinus, a Czech favourite.  There are also such brands as Guinness, Heineken and many, many more.  O'Che also offers a cocktail of the week and on Thursday's all cocktails are half price.  There are many cocktails available as the bar serves over 75 different spirits, some of which can be very powerful.  There are also three televisions and one large projection screen getting such channels as Sky Sports, ESPN, BBC and more.  Hours:  Daily 10:00am until 1:00am
Good places to have a beer in Prague
U Fleků
is a pub and microbrewery in Prague. The front façade of the 12th-century building has an old, highly decorated clock above its door. U Fleků is more expensive than other places, but you are drinking special dark beer brewed on the premises of the oldest Czech brewery in Prague while enjoying live music and chatting with tourists from all over the world. Location: Křemencova 11, New Town www.ufleku.cz
U Pinkasu
The first pub to serve the world-famous Czech beer, Pilsner Urquell. Traditional Czech food. Close to underground station Mustek. 
Pivni Galerie
This is a bar and bottle shop together. They have a few beers on draught and hundreds of bottles of different Czech beer. If you're not sure which to choose, ask the staff for help. The bar is located away from the city centre, about a kilometre from the Holesovice station. Because of its location, it's a shame that not many foreigners visit this very friendly bar with its great atmosphere. www.pivnigalerie.cz
Pivovarský Dům
The food is average, but the beer is experimental and delicious. This place is definitely worth a few pints, with a nice atmosphere and friendly service. It gets crowded, so expect to wait if you come at dinner time. This brewpub is situated close to Charles Square. Location: Lípová 15, New Town.
Ferdinanda
Two centrally located restaurants: one in Lesser Town and the other in New Town. Ferdinanda serves the tasty and unique Ferdinanda beer, or try the "Sedm Kuli" (Seven Bullets), an excellent Vienna-style beer. Of course, they also have a good selection of pilsners and lagers. The food is different from what you will find in other similar places, and the staff is very friendly. The prices are very reasonable. Location: New Town (corner Opletalova and Politickych veznu), Lesser Town (Karmelitska 18); www.ferdinanda.cz
The Strahov Monastic Brewery (Klasterni Pivovar)
This microbrewery is located close to the Prague Castle (Strahov Monastery); it serves simple meals and famous Czech beers. It might be a bit more expensive by Czech standards but is still a bargain for British travellers.
Les Moules Café
This restaurant/cafe serves a large selection of Belgian beers, including Stella Artois, Chimay and Hoegaarden. From the food menu, you can taste some delicious seafood. It is located only a few steps from the Jewish Museum. A bit pricier compared to other pubs. Location: Parizska 19/203; www.lesmoules.cz
Restaurace u Provaznice
("By the Wife of the Rope-maker") offers all of the classic Czech food, sprinkled with the tale of a formerly faithful wife (see the menu to learn more about this gory tale). Locals assemble beneath bold frescoes for the renowned "pigs leg" with Czech mustard and horseradish (each day 11:00 to 24:00, near to the Old Town at the foot of Wenceslas Square, Provaznická 3).
U Medvídků
("Next to the Bear's Cubs") began in 1466 as a brewery and now is a flagship beer hall for Czech Budweiser. The single big room is loud, bright, touristy, and rather smoke-filled (each day 11:30 to 23:00, near Wenceslas Square and Bethlehem Square, Na Perštýni 7, telephone: 224 211 916). The compact beer bar adjacent to the restaurant (each day 16:00 to 03:00) is utilized by uni students for emergencies—like when the majority of other pubs have shut.
U Zlatého Tygra
("Next to the Gold Tiger") has epitomized the archetypal Czech pub for a long time, where beer can turn strangers into soulmates, who over-step the blurred line between imagination and memory. At the same time, they convey their humorous life stories to one another. These days, "Golden Tiger" serves as a bustling tribute to one of its long-term regulars, Bohumil Hrabal, the writer, whose works of fiction have immortalized many fascinating characters who used to warm the wooden seats here. Only regular customers have tables reserved. If you do happen to locate an empty spot, you will be served as a surprise guest, as opposed to a customer—and you will probably wait for quite some time to get your beer (each day 15:00 to 23:00, just to the south of Karlova, Husova 17).
Lokál
 ("Dump") residents are happy to have recently discovered this venue because of the high quality and affordable classic Czech meals. Occupying a long, arching space, this restaurant caters to customer nostalgia: the bold interior has a deliberate retro, 1980s design, and the staff have been told to be brusque (but not rude), similar to if they were working in a notorious Prague train station "dump" (each day 11:00 to 01:00; request the English menu by the tap at the front, Dlouhá 33).