Using trains for day trips from Prague is quite a good option. Trains are quite comfortable and still cheap compared to other EU countries. If you're planning a train journey or using trains more frequently, consider buying a Z Card for around 300 CZK (valid for 1 year). This card gives you quite a high discount (around 40 per cent) for all train journeys. Note that the price of a return journey is almost the same as for a single ticket. There are a few types of trains: Rychlik (R), Spesny (Sp) and Expres (Ex) trains are faster ones. Be careful and never take Osobni (Os) for longer journeys as they call at every station and are obviously extremely slow. Other trains are SuperCity (SC), EuroCity (EC) and InterCity (IC). If you're taking one of these, you need to pay a supplement. International trains leave from the main stations, Hlavní nádraží and Nadrazi Holesovice. Services to the north and east Bohemia depart from Masarykovo nádraží; routes to the south are from Smíchovské nádraží. Tickets for local train services within the Czech Republic can be purchased on the spot.
Trains departure and arrival information can be found on the following websites: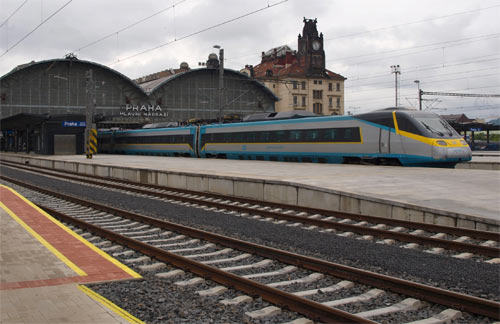 Train Stations in Prague
Praha Hlavní nádraží (main train station). Located in the city centre (Wilsonova Street, Prague 2) near Wenceslas Square. The main station servers international trains from all countries but especially trains on the east-west route stop here (trains from Vienna and Munich etc.). It is the largest railway station in Prague, operating since 1871. Getting to the station is easy; the station is on metro line C (red line) and is just one stop from the top of Wenceslas Square. If you have a lot of luggage, we recommend you use our taxi service. There is a tourist office open from 09:00 till 19:00 (on Sat, Sun only until 16:00), currency exchange offices, ATMs, left luggage services provided by coin-operated lockers, and a guarded luggage depository.
Praha Holešovice (Partyzanska, Prague 7). Located north of the city centre, Prague's second-largest and is not far from the city centre, just three stops by metro from Hlavni nadrazi. Express trains from west and north Europe stop here on their way to southern Europe. This is also a terminus for trains coming from the north (Dresden, Berlin, Hamburg). There is a ticket office in the small train station hall (open 09:00 – 17:00, closed Sat, Sun), left luggage lockers, an internet café, ATMs, exchange offices, and agencies offering accommodation (open from 06:00 till 23:00).
Praha Smíchov (Nadrazni, Prague 5). Located at Smichov, about 15 minutes by metro from the city centre. It is a small railway station with trains departing to the western part of the Czech Republic. The station is mainly used by Czech citizens when going to work or coming into Prague (trains depart from here for Karlstejn, Plzen and Pisek). Getting there is easy because the railway station is connected to a metro station with the same name.
Praha Masarykovo nádraží (Hybernska, Prague 1). Located in the city centre, near Namesti Republiky and Florenc bus terminal. Trains depart from here mostly to suburban destinations including Kolin, Kutna Hora and Hradec Kralove. Masarykovo Nadrazi is the oldest railway station in Prague.
Rail Passes
The Czech Republic is part of the Eurail network, and several train passes are available from Rail Europe. RailEurope offers three passes. The Czech Flexipass is good for the Czech Republic only, valid for any 3 days unlimited train travel in a 15 day period. The European East Pass – is good for the Czech Republic, Slovakia, Austria, Hungary, and Poland; 5 travel days out of 30; additional days are available. Austria 'n' Czech Pass – good for the Czech Republic and Austria; 4 days of unlimited travel within a 2-month period.
London to Prague by Train
You can travel from London to Prague by train, via Brussels and either Cologne, Berlin or Frankfurt. Take an afternoon Eurostar to Brussels and a connecting train to Cologne, then the excellent Kopernikus sleeper train to Prague. Or an early evening Eurostar from London to Brussels, the overnight sleeper to Berlin, and then a scenic EuroCity journey from Berlin to Prague with lunch in the restaurant car. Or leave London in the morning, change at Brussels and Frankfurt for the Frankfurt-Prague sleeper, giving a convenient morning arrival in Prague with the full day ahead of you.
Czech Railways
transport over 180 million passengers a year. The most used route is between Prague and Ostrava, where the modern fast Pendolino train runs. The number of suburban connections, most connected to the public transport network, is also growing. This increase is because of deteriorating road routes that lead to the capital city.