A car rental might not be the best idea in Prague, as much of the city is off-limits to cars and parking is mostly by permit. If you're heading out of town, car rental can be a good option but can be as well pricey. You can easily arrange car rental from some local car hire companies or international car-hire chains. Hertz and other chains have airport pickups. You might be charged extra if you opt for an airport pickup. You can also arrange hotel delivery, and there is usually no extra fee for this. If you decide to rent a car through some international brands, you will pay approximately double compared to local rental car companies. On the other hand, well-known brands are English speaking, and they offer additional advantages and a better selection of luxury cars.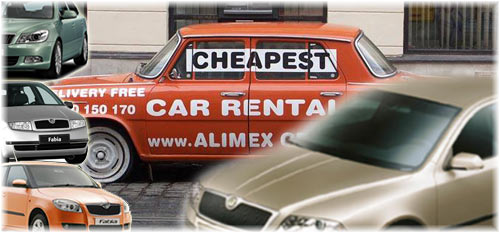 A typical rate for the cheapest car for a day is around 1600 CZK or 800 CZK if you rent a car through a local company. Weekly or monthly rental prices can be as low as half price of daily rates. This already includes unlimited mileage and insurance. To rent a car, you must be at least 21 and hold a driving licence for more than 1 year. Usually, a credit card as a guarantee is required as well.
Recommendation
If you plan to rent a car from international brands, it is easier to arrange a rental through your travel agent rather than on arrival. Not only will you save cash (around 20%), but you'll also be able to find out about deposits, drop off charges, cancellation penalties and insurance costs without having to make yourself understood in a foreign language.  
The Speed Limit
130 kph (81 mph) on motorways (minimum 50 kph)
90 kph (56 mph) on dual and single carriageways (on country roads)
50 kph (31 mph) in urban areas.
30 kph (18 mph) on level crossings
Safety

Drink & Driving – the allowed blood/alcohol level is zero, and penalties are severe.
Passengers in front seats must be won seat belts. Children under 12s may not travel in the front seat.
Other items you will have to carry at all times are a first-aid kit, set of replacement bulbs, spare tire, and red warning triangles.
Petrol
Leaded form as special (91 octanes) and super (96 octanes).
Unleaded petrol comes as natural (95 octanes) and super plus (98 octanes)
Diesel is also available.
Car Assistance/Emergency
Non-stop vehicle rescue and road services:
ABA – Autoklub Bohemia Assistance – tel. 1240
Ústřední automotoklub – tel. 1230
Škoda Assistance – tel. 261 104 666
Recommended Car Rental Companies
Sixt
Sixt offers easy five-step online booking, and you can take your pick of high-performance German cars like Audis and BMWs or other luxury cars like Mercedes. They're in all the major Czech cities, and convenient pick-up and drop-off are available in Prague at the airport and the Hilton near the Florenc bus station. website
Hertz
The largest car rental company offers short-term and long-term rentals and can also arrange reservations to all Hertz Locations worldwide. Address: Hotel Diplomat, Evropská 15, Dejvice, website
A-Rent Car (Thrifty Car Rental)
A-RenT Car is part of the worldwide Thrifty Car Rental system, a network of independent franchisees working together to provide services oriented car rental. Address: V Celnici 8, 10 – Millenium Plaza, Prague 1, website
Prague Airport Transfers

Chauffeured Car Hire in Prague
Austrian Chauffeur Limousines
Since 1990, Austrian Chauffeur Limousines has been honoured to serve various distinguished corporate and public sector clients. Address: V Celnici 10, Prague 1, website 
Avis

Avis Rent A Car System, Inc. and its subsidiaries operate the world's second-largest general-use car rental business, providing business and leisure customers  Address: Prague Ruzyne Airport, Prague 6 & Klimentská 46, New Town, website  
Budget Car Rental
International rental car agency with branches in downtown Prague and Brno, as well as Prague and Brno airports. Featuring Opel cars and minivans.  Address: Cistovicka 100/61, Prague 6, website 
Europcar
This Paris-based rental company has offices all over Europe, including two in Prague, at the airport and on Pařížská street in the city centre. The fleet consists of new, mostly midlevel cars, and prices are moderate, to begin with, but customers can also take advantage of special deals in selected cities to get a car hire for less than 30 euros per day. Address: Elišky Krásnohorské 9; Old Town; website
CzechoCar
Address: Congress Centre, 5.května 65, Vyšehrad; website
Vecar
Address: Svatovítská 7, Dejvice; website
West Car Praha
Address: Veleslavínská 17, Veleslavín; website