As with every single country in the world, the Czech Republic has a large range of traditional food, all of which should be sampled by every tourist to give them a real feel for the country. Food from this part of the world is usually hearty and filling, unlike the often pretentious food found in other parts of the world – something that means that every meal will leave you with a full stomach and a real sense of having eaten a meal that was completely worth the money!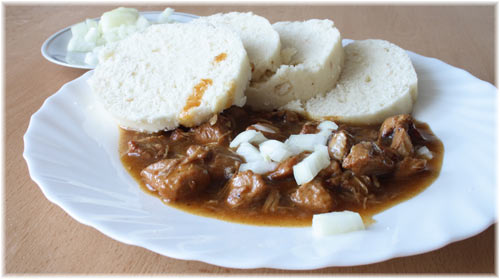 One of the most famous Czech Republic dishes is roast pork with dumplings and Sauerkraut– a dish that will fill even the largest of stomachs! This is eaten by many residents of the city and will be served in many restaurants found away from the main tourist areas – restaurants that will also be cheaper than the tourist restaurants! Although the pork and dumplings are excellent, it is the Sauerkraut that is the star, especially if it is prepared fresh by the chefs.
Another popular dish in the Czech Republic is marinated beef sirloin, which might appeal to more western tastes. This is usually served with a thick sauce made of carrot, parsley, celeriac and cream, which is lavishly poured all over the top of the beef. Like the previous dish, the best examples of this are found in the smaller restaurants in the less touristy areas of the country.
Other recommendations are: Pork schnitzel from Vienna or spicy beef goulash from Hungary and fried cheese is a wedge of deep-fried Edam.
The Czech Republic is also known for its sweet delights, which are generally eaten in the late afternoon with a nice cup of coffee – although they taste just as good any time of the day! Fruit dumplings – usually made from plums – are very popular, as is kolache, which is a yeast pastry filled with anything from fruit to cheese. There is some disagreement about where the dish originated – with Poland, Hungary and Slovakia also staking a claim – but the Czech people are adamant that they invented it!
Meals begin with a brothy soup and often end with a shot of Fernet or Becherovka, which is said to aid digestion.
Dumplings in Meals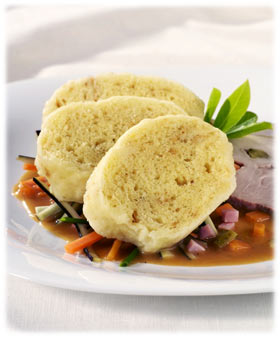 Dumplings (knedlík) is a facet of the Czech's national heritage whose significance would be difficult to over-estimate. Should you depart from Prague and decide not to consume any dumplings, you'll probably starve. The 2 main types are the thicker ones composed of brambоrové kndelíky (potatoes) and the more commonly seen ones houskové knedlíky (in a bread style), composed of rolls and wheat. They're the more commonly seen side dishes for lots of meals, especially meals with thick gravy or sauce like goulash or roast pork.
Game Dishes
Among the Czech Rep's most impressive culinary offerings – only recently getting the acclaim it merits – is wild game. Once autumn arrives, boar, venison, goose and wild duck are often served, usually with a sauce prepared using fruits from the wild like blueberries or rose hips. As these dishes only get served seasonally, if you see one on a menu, sample it.
Fish Dishes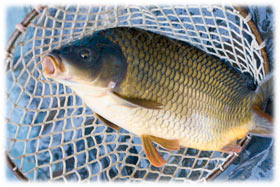 The Czech Rep is known for its' yuletide pre-occupation with kapr (carp), which, come Xmas eve, gets ritually killed, chopped into steaks, then fried and breaded. Xmas carp is sometimes good and sometimes not-so-good, although many Western tourists seem to like fish with reduced olfactory content. The country's trout farms provide lots of fresh pstruh, usually just fried completely in butter or deep-fried and breaded. The candát (pike perch) or native zander is a working-class dish and was introduced from this region to the West of Europe, particularly. Sumec (Catfish), lín (Tench), štika (pike), úhoř (eel) and okoun (perch) are sometimes offered on restaurant menus and are certainly worth sampling.
Cheeses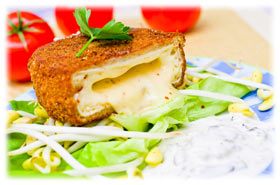 Olomoucké syrečky or Olomoucké tvarůžky, from Olomouc in Moravia, is a very strong smelling soft cheese. Throughout Austria, it's called 'Olmützer Quargel'. It's been made in Olomouc right from fifteenth-century times, but these days only 1 company manufactures it. It's a bit rubbery, low in saturates and, at its' best, has the aroma of old socks. You can fry it and serve it with some toast.
Pivní sýr (beer cheese) is a different soft cheese, although it has more butter and far fewer noisome than tvаrůžky has. It's served with sliced white onions, paprika and mustard and is intended to be broken up using a fork and a dash of beer from the glass, then spread over a piece of Šumava style rye-bread. U Zlatého Tygra can boast that it was among the 1st public houses in Prague to offer beer cheese, which gives it a sense of authenticity.
More regional specialities can be found at Czech Specials (czechspecials.cz). The website provides a wealth of information on regional specialities, from Black Soup to the pear-filled Wallach Tarts. Along with a description, you will find a recipe and a restaurant where you can sample the cuisine.