Hergetova Cihelna, Prague Lesser Town
One of the best things about this restaurant is that during the warmer months of summer, the large terrace that looks onto the river is used. This provides patrons with the opportunity to bask in the cool evening air in Prague and take in the wonderful sights. The terrace is also in use during the day and provides the perfect setting for tourists to enjoy a refreshing drink while looking at the scenic views. Outdoor heaters are also used to provide additional heating if the night is a bit too brisk to be fully enjoyed outside.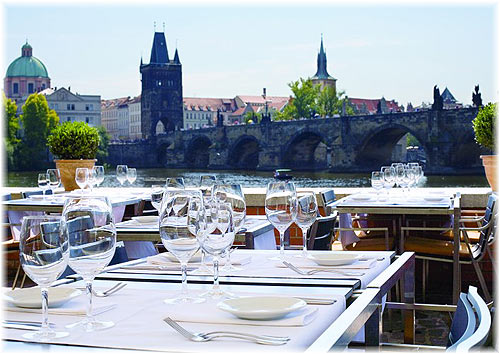 All food styles are catered for
The selection of food available at the Hergetova Cihelna should be suitable for everyone as there is a wide selection of food to choose from. There are traditional and modern Czech dishes, as well as a number of meals from the international arena. Patrons can choose between prawn curries, lamb shanks and even rib eye steaks, all of which are cooked to perfection from a kitchen that has developed a strong reputation in the local area. Considering how many great restaurants there are in the local area, this is a strong recommendation for any restaurant to have.
The wine list is well regarded
In addition to the great quality of food on offer, the Hergetova Cihelna can boast of an extensive wine list. If you are a wine buff, you will be impressed by the breadth and depth of wines on offer and the waiting staff are always on hand to recommend a win that will perfectly compliment your meal. The restaurant is also perfectly suitable for children, with families being made very welcome. No matter what sort of holiday you are enjoying, the Hergetova Cihelna should provide a dining experience that you matter long after the holiday has finished. The lesser Town area of Prague hosts many fine restaurants but this can hold its own against the majority of them.