Heralding the entrance to the Charles Bridge and guarding any approach from either side is the blackened and aged looking Bridge Tower. The smaller tower, a Romanesque structure, dates back to the 12th century, while its current Renaissance shape is from 1591. The higher tower is from 1464, and its late Gothic architecture draws upon the Parléř's Old Town Bridge Tower.
It is part of the old fortification system in Prague. Like the Powder Tower, this gothic-looking structure, peaked with a tiled roof, offers a good bird-eye view of the Charles Bridge, Vltava River, Prague Castle and Old Town. It was partially damaged from the failed attempt by the marauding Swedes to occupy the Old Town in 1648. Still, Sculptures by Peter Parler (whose genius can be seen especially in the choir of St Vitus Cathedral) survive.
The higher tower houses the "On the Bridge About the Bridge" permanent exhibition, detailing the history of Charles Bridge. Guided tours are organised by the Prague Information Service. During the summer months, a branch of the Prague Information Service tourist information centre is open here.
Permanent exhibition: statues of St. Vitus, Charles IV, Wenceslas IV, St. Adalbert and Sigismund and an exhibition of photographs documenting the unique replacement of statues on its eastern facade.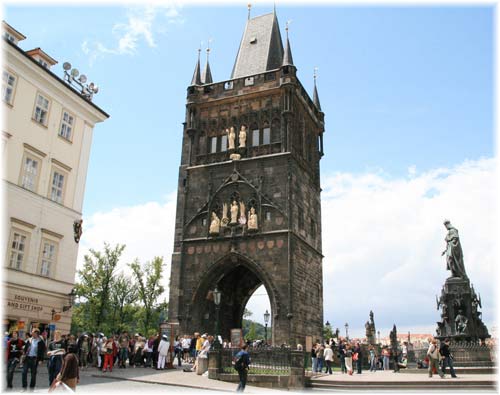 Opening hours:
daily 10 a.m. — 9 p.m. (March, October)
daily 10 a.m. — 6 p.m. (November – February)
daily 10 a.m. — 10 p.m. (April – September)
Another name: Lesser Town Bridge Towers
Location: Charles Bridge
Getting there: Metro A – station Staroměstská, Tram 17, 18 – stop Karlovy lázně
Admission: Adult 70 CZK, admission free with Prague Card