Palladium 
This huge shopping mall just opened in 2007. There are four floors, with more than 200 shops and over 30 restaurants and cafes. There is also some historical value behind the Palladium, as the foundations are associated with 12th-century structures integrated into the architecture of the shopping mall.
Location: Namesti Republiky 1, Prague 1. Getting there: Metro B to Námestí Republiky, www.palladiumpraha.cz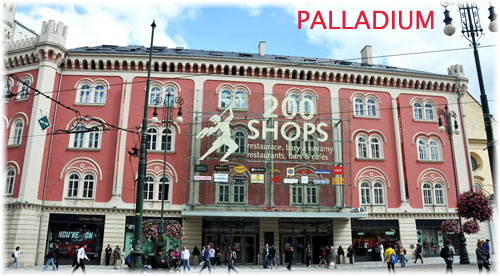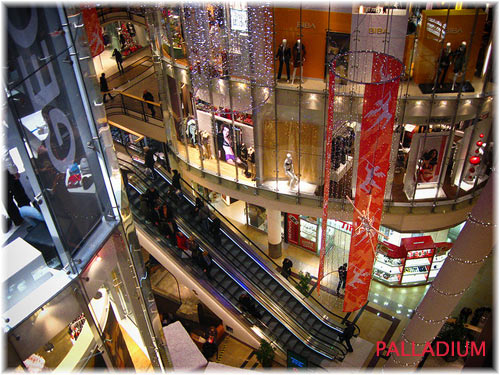 Černá Růže

This three-floor shopping mall is located just in the city centre in two historical passages and several buildings. The first building is from the 1840s, and the second is from the 1930s. The arcade joining the two buildings is seen as a cultural monument. There are over 50 stores and a few restaurants. 
Open: Mon-Fri 9am-10pm, Sat 9am-7pm, Sun 11am-7pm
Location: It is most easily accessible from Na příkopě 12 or from Pánská 4. It is just next to Wenceslas Square. www.cernaruze.cz
Vinohradský Pavilón

This former historical market hall was reconstructed into a nice shopping mall several years ago. The complex offers many exclusive designer brands such as Tommy Hilfiger and La Perla. There is also a supermarket in the basement. It is nice to sit in the cafe in an atrium and wait for your partner to finish her shopping.  
Location: The pavilion is located on Vinohradská and Budečská, 10 minutes walking distance from Wenceslas Square. www.pavilon.cz
Getting there: Tram 11 to Vinohradská tržnice
Open: Mon. – Sat. 9:30 a.m. – 9 p.m., Sun. 12 noon – 8 p.m.
Myslbek Shopping Gallery

Behind a striking modern facade, this cosy and relaxing shopping gallery has 30 shops and boutiques, offering mostly fashion goods, cosmetics, leather materials, ties, and pearls behind a striking modern facade. The shopping mall also has a few restaurants inside. 
Open: Mon. – Fri. 9 a.m. – 8 p.m., Sat. 9 a.m. – 7 p.m., Sun. 11 a.m. – 7 p.m.
Location: This small shopping mall is located in a modern building just opposite the Černá Růže shopping mall. It is accessible from Na Příkopě Street or from Uhelný Trh Square. www.ngmyslbek.cz
Debenhams
Location: Václavské nám 21, Prague 1
Getting there: Metro A/B to Mustek
Open: Mon. – Fri. 10 a.m. – 8 p.m., Sat. 9 a.m. – 5 p.m., Sun. 10 a.m. – 8 p.m. www.debenhams.cz
Kotva
This huge shopping mall with five floors offers almost everything from electrical goods to cosmetics, including a supermarket store. Tip: visit a tax-free shopping service on the ground floor. 
Location: Námestí Republiky 8, Prague 1 Getting there: Metro B to Námestí Republiky
Open: Mon. – Fri. 9 a.m. – 8 p.m., Sat. 10 a.m. – 7 p.m., Sun. 10 a.m. – 6 p.m. www.od-kotva.cz
Tesco
Národní třída 26, Prague 1. Formerly known as K-Mart, it is located on the corner of Narodni Trida. It has a basement supermarket which is popular with locals and travellers if you wish to buy some groceries. At the same time, the other four floors contain all regular goods from clothes to electronics.  
Getting there: Metro B to Národní třída
Open: Mon. – Fri. 8 a.m. – 9 p.m. (groceries 7 a.m. – 10 p.m.), Sat. 9 a.m. – 8 p.m. (groceries 8 a.m. – 9 p.m.), Sun. 10 a.m. – 8 p.m. (groceries 9 a.m. – 8 p.m.) www.itesco.cz
Slovanský dům
This is a centrally located extravagant shopping centre with many luxury and expensive retail shops such as Mexx, Nautica, Tommy Hilfiger, Miss Sixty, Cerruti Jeans and Bellissimo. Another feature is a multiplex cinema.  
Open: 10am-8pm
Location: Na příkopě 22, Prague 1. Getting there: Metro A/B to Mustek www.slovanskydum.cz  
Palác Flóra
This is a new shopping centre in the heart of Prague with over 120 shops of international and local fashion brands, a food court, lots of restaurants and cafés, and a cinema multiplex. With an open central lobby, it is a bright and airy environment, suitable for relaxed shopping. 
Location: Vinohradská 144, Prague 3; Getting there: Metro A to Flóra.
Open: Mon-Fri 9 a.m. – 9 p.m., Sat. 9 a.m. – 7 p.m., Sun. 11 a.m. – 7 p.m. www.palacflora.cz
Nový Smíchov
This is a fashionable and modern shopping centre, as well as a favourite entertainment centre. Nový Smíchov is spread across three floors filled with 150 different shops, a food court and a Palace Cinema multiplex. There are several style boutiques, a big computer store, plus the French food chain Carrefour. There is also a huge area for parking in the basement. 
Location: Plzeňská 8, Prague 5; Getting there: Metro B to Andel. In fact, it is not right in the historical city centre but let's say it is still in the city centre, easily accessible from metro station Anděl, just 5 minutes walk from Wenceslas Square. www.novysmichov.eu 
Metropole Zlíčín
The complex contains a supermarket and a cinema with an attached fast food area. There is also a large electronics store – Electro World. 
Location: Revnická 1, Prague 5; Getting there: Metro B to Zličín. From Zlicin metro station take a free bus, or it is a walk of a few minutes.
Open: 10 a.m. – 9 p.m. daily, Electro World 9 a.m. – 9 p.m., entertainment 10 a.m. – midnight; limited hours on Christmas www.metropole.cz
Leťnany Shopping Center

The mega Tesco store dominates the shopping centre.  
Location: Veselská 663, Prague 9; Getting there: is located at Letnany, but the closest metro station is Ladvi. There are free buses from Ladvi departing at quite frequent intervals and free shuttle bus from Nádraží Holešovice.
Open: 10 a.m. – 10 p.m.  www.oc-letnany.cz
Bilá Labuť   
Getting there: tram stop of the same name, near underground station Florenc.
Open: 10 a.m. – 9 p.m www.bilalabut.cz
Centrum Cerny Most
this is a huge supermarket located on metro line C with the same name. This complex caters mainly for Czech companies, so you won't find many international brands here, though it is a nice place to wander around and have lunch.
Location: Chlumecká 6, Praha 9 www.centrumcernymost.cz
Centrum Chodov

the shopping centre has an international selection of shops, a basement hypermarket and a restaurant area for fast food on the upper floor. The complex incorporates a bowling alley and billiard and pool hall.
Location: Roztylská 19, Prague 4 www.centrumchodov.cz
Fashion Outlet Arena

This is an outlet centre, where you'll find dozens of shops with brands discounted 30-70%. Open daily from 10 a.m. to 8 p.m.
Location: take metro line A to Hostivar, and from there, the shuttle bus runs directly to the Fashion Arena. www.fashion-arena.cz
Galerie Butovice
Location: Radlická 520/117, Prague 5 www.galerie-butovice.cz
Makro
Location: Chlumecká 8, Prague 9 www.makro.cz
Palác Lucerna
Location: Štěpánská 61, Prague 1 www.lucerna.cz
Europark Hostivař

the shopping centre is located at Sterbohly. You can use a free bus from the Skalka metro, which departs every 15 minutes during peak times. It has the best kids' play area of all the shopping centres, furniture shops, a reasonable restaurant and fast food sections on both floors.
Location: Švehlova 32, Prague 10 www.parkhostivar.cz
Manufaktura
This is the primary branch of a store chain that specialises in local craft items, such as wooden toys, hand-dyed fabrics, beautifully coloured eggs and ceramics. This chain has roughly ten Prague outlets, so it is hard to miss. Address: Melantrichova 17; www.manufaktura.biz; Each Day 10:00-20:00.
Currencies Accepted: Official currency is Ceska Koruna (Czech Crown). Most stores (also small ones), shops accept credit and debit cards. Selected department stores and restaurants will accept Euros but the exchange rate won't be very good.