If you understand the climate in Prague, it will make it much easier for you to plan your trip.  Details on a short term forecast are available online, but a longer-term forecast based on climatic trends will give you a good base on what to expect in each season. Prague is actually known for its weather extremes, so be sure to pack accordingly and be prepared in advance.
Temperatures and Weather Conditions in Prague
The city of Prague experiences a continental climate that is greatly influenced by weather patterns from Siberia to the east and from the Atlantic to the west.  In fact, the city is also known for its extreme weather, from brutally cold winters to hot summers.  In between, the weather is pleasant in both the spring and fall months and therefore, this is usually the best time to visit the city.  While the average temperatures are the warmest in July and August, with average highs of approximately 23 degrees Celsius, it is not uncommon for temperatures to climb to 35 degrees over the same time period.  Winters can also be cold, with temperatures getting as cold as -15 degrees Celsius on occasion.  Snow is actually rare in the city, but it can happen.  Overall, Prague will receive 525 millimetres of precipitation over the course of a full year. This precipitation is fairly evenly distributed over twelve months, with the wettest time coming between May and August.  The winter months are generally a little bit drier.  When you visit, you will want to have either rain gear or an umbrella with you to be on the safe side.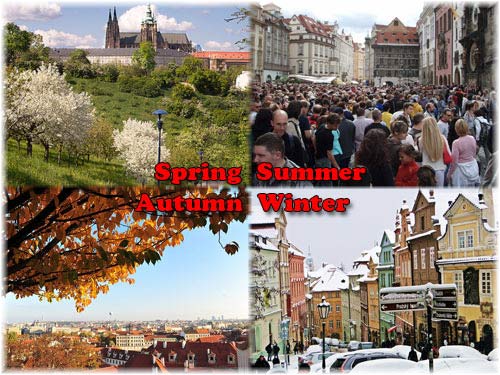 Weather in Winter
While winter in Prague can be quite cold, it is also a great time to visit the city. When it snows, the city looks like a fairyland land, and there is plenty to do, especially for those who love concerts and opera. Also, keep in mind that many tourist destinations will have reduced hours because it will get dark as early as 4:00 in December and January and 5:00 in February. Be sure to pack warm clothes, including a heavy coat and shoes that will keep your feet warm as you explore the city. read more
Weather in Spring
Spring is considered one of the best times to visit Prague since the weather is mild and not too hot or oppressive. In addition, the city's numerous gardens are in full bloom, and the hotel rates are still very reasonable. The weeks in early spring might still be chilly, but from mid-April until May, the weather will only continue to get warmer with each passing day.
Weather in Summer
Summer in the city can be oppressive, with highs climbing to near 35 degrees Celsius on occasion. Summers can also be oppressive, with high humidity values from June until the middle of September. While some of the residents head to cooler regions, there is still plenty to do during this time as tourist destinations are open late. Many restaurants have areas where you can sit outdoors and enjoy the warmer weather while enjoying dinner and drinking. However, afternoon rain showers are common so keep an umbrella with you late in the day.
Weather in Fall
Autumn is also one of the best times to visit the city of Prague. The brightly coloured trees offer spectacular views, and the days are usually still filled with sunshine as this is one of the driest times of the year. The end of the season can start getting cold, so early fall is generally the best time to visit.
Off-Season – January to March and November
This can be a good time to visit the city if you don't mind the cold weather.   The crowds are usually much thinner, and visitors can get good deals on airfare and hotel rooms. November can also be a good time to visit before it gets really cold and the snows begin to set in.
Clothes and Packing
The weather in Prague can be highly changeable over a short period of time. It is advisable to take a rain jacket to account for any sudden showers. The summer months are typically the wettest, so definitely keep either a jacket or umbrella during this time. However, if you forget your umbrella, there is always a restaurant or café nearby you can duck into. If you plan on travelling to the city in the summer months, be sure to take shorts and short-sleeved shirts to account for the heat and humidity. If you travel to the city in the winter, be sure to take plenty of sweaters, long sleeve shirts and heavy jackets to keep you warm against the chill. For both the spring and fall months, dress in layers to account for quickly changing conditions. No matter what time of the year you visit, be sure to pack comfortable shoes as you will be doing a lot of walking to see the sights.
Asthma Warning

If you suffer from breathing problems such as asthma, it may be a good idea to visit Prague in a season other than the summer. That is because the pollution in the city can lead to bad air quality during the summer months and can make breathing quite difficult. If you have issues, be sure to have your inhaler with you at all times.
Prague Weather Forecast