The Museum was founded in 1963 as a regional gallery of the Central Bohemian Region, and formed part of a network of state galleries in former Czechoslovakia.
It began its activities at Nelahozeves Castle near Prague, where in 1964 it opened a permanent exhibition of Czech modern art. This was discontinued in 1971, and instead an exhibition of old European art (in particular Spanish art from the Roudnice-Lobkowicz collection) was assembled. This collection, as well as the castle itself, was returned to its original owners as part of restitution in 1993.
In 1971 three reconstructed historical houses in Husova St, in the Old Town district of Prague, were opened as the new home of the gallery. They remain the centre of the Czech Museum of Fine Arts, where it also stages temporary exhibitions of 20th century and contemporary art.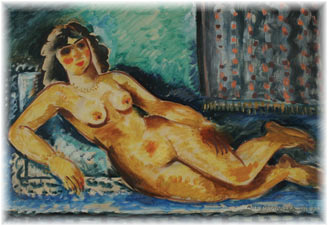 In 1993, the gallery received a new statute and adopted its current name, the Czech Museum of Fine Arts. In October 1994, the Czech Museum of Fine Arts opened the newly reconstructed House of the Black Madonna in Celetná St, Prague. After many years, this unique Cubist building was thus fully rehabilitated. Located in the historical centre of the city, the building itself became the chief exhibit of an originally conceived exhibition that corresponded with contemporary trends in European museum practice, oriented towards creating an overall image of artistic epochs. The Czech Museum of Fine Arts ended its activities at the House of the Black Madonna in January 2002.
The museum is currently reconstructing the former Jesuit College and its grounds in the historical town of Kutná Hora, some 60 kilometres east of Prague, as a new centre for its activities. The Kutná Hora Arts Centre is due to open soon. The Czech Museum of Fine Arts is opening a permanent exhibition of its collection in Kutná Hora following a gap of more than thirty years. The exhibition is due finally to present the full spectrum of the museum's art collecting from the time it was founded up to the present day, thus following in the tradition of its first installation of 20th century art at Nelahozeves Castle in the 1960s. The museum has, until now, compensated for the lack of space to present an overall view of the collection with exhibitions of its artworks at Husova St, the House of the Black Madonna, Carolinum, and at other regional galleries and institutions abroad.

Location: České muzeum výtvarných umění v Praze; 19–21 Husova Street, Old Town
Open: daily except Mondays 10am-6pm
Admission: 50 CZK