Prague has been a popular destination for stag parties for some time groups descend on the city for its stag reputation and cheap drinks. It's ideal for any stag party, with an abundance of sex clubs and cheap beer from as little as 90p a pint, and this has given Prague a bad reputation. But Prague also has a historical side with plenty to do to fill your weekend: top-class restaurants, bars and clubs of every kind, plus brothels, lap dancing clubs, strip clubs and massage parlours. You can also enjoy some excellent activities, from shooting magnums and pump-action shotguns to go-karting and paintball. It is a lively, friendly place and large enough to absorb the influx of British stag weekenders and, with Czech's very positive attitude towards beer and sex, what more you need to make it a great stag party in Prague? Prices for British tourists start at the equivalent of £120 for 2 nights B&B, return hotel transfer, a private strip show and loads of beer.
To deal with street rowdiness connected with stag parties within the touristy area, Prague implemented a ban on street drinking in a few main areas. Still, it does not relate to restaurants with sidewalk seating or beer gardens in parks.
There Is Nowhere Like Prague
The resolutely cool epitome of aesthetic elegance and style, this is a city with mind-boggling possibilities for any group, be it stags, hens, Mormons or Chelsea Pensioners! Its women are too sexy, its buildings are proof of creative genius, and its all-night clubs and bars are atmospheric, lively venues. Sound good for starters? Believe us; it gets better.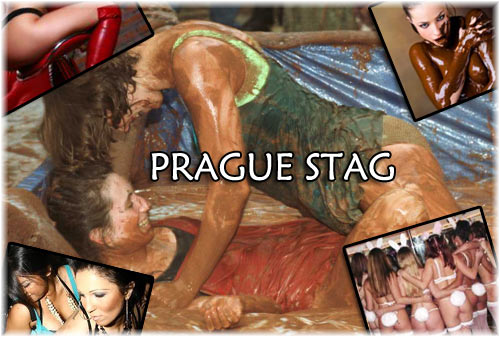 Stag and hen parties in Prague are quite safe, but it is still recommended you stay in a group and watch your belongings – especially your wallet – all the time. Be careful in side streets off the Wenceslas Square as many prostitutes operate there at night. If something goes wrong and you get into trouble, like accidentally doing some damage, expect to be forced to pay damages as well as the police being informed.
How Do the Czechs Perceive Stag Parties in Prague?

Until recently, most Czechs didn't know what stag parties were because we don't have them in our culture. So when we see crowds of drunk Brits walking through town in fancy dress, we tend to think it's funny. But some don't agree; walking through Prague late at night, it's a nasty shock to run into a gang of 20 shirtless, beered-up British lads, chanting and shouting. Despised by some locals and banned from some Old Town bars and restaurants, British stag parties can be watched (and heard) loudly misbehaving in the city centre, especially on Friday and Saturday nights. While most city-centre residents wish they would go away, it doesn't look like this will be happening anytime soon. In fact, a lot of tour companies offering steak-and-titty tours of Prague have started up, catering to these loud, boisterous groups of Brits.
Example: Bombay Cocktail Bar in Dlouha (close to the Old Town Square)- a policy of no stag parties. But if you enter in small numbers and you should be all right.
"We prefer drunken British than Germans! They drink, they spend money, they go home. That's no problem for us". Even Prague's Chief of Police is on record saying that he "prefers drunken Britons to sober Germans".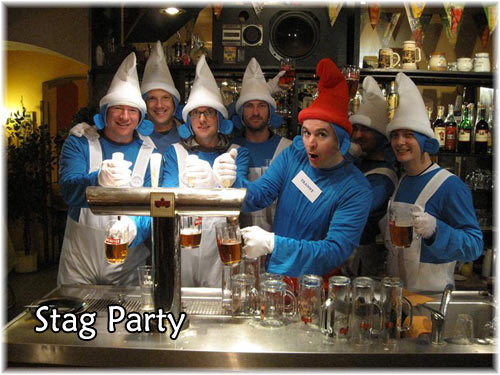 Our suggestion for large stag parties coming to Prague is to stick to the bigger pubs and avoid smaller ones. The Irish bars located in the city centre are also a good choice. You can also try the Dragon Pub on Old Town Square, the Three Lions pub in Krakovska and many others. As long as you come early, and unless you are totally drunk or aggressive, then you should get in. Many places are keen to balance girls and boys, so if you can, you should bring members of the opposite sex in with you.
Hen Parties
If you plan a hen party in Prague contrary to the stag parties you will be absolutely fine. Even very large groups of women can go almost anywhere without problems. The most popular places for hen parties are the disco La Fabrique and Bombay Cocktail Bar.
Tip: Book a VIP HUMMER LIMOUSINE for your stag party in Prague.